Solarwinds Kiwi CatTools

Automate Network Configuration Management for Small Business Networks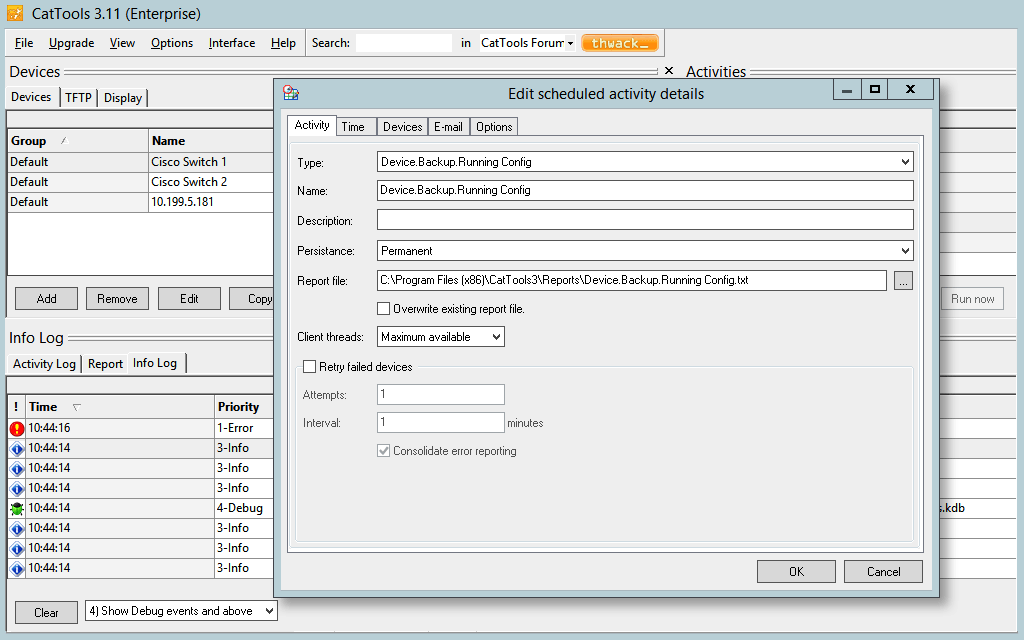 SolarWinds Products
Solarwinds Kiwi CatTools - 1 Year Maintenance
SolarWinds Kiwi CatTools - Full Install with 12 Months Maintenance
License with 1st-year Maintenance
#300047537
Our Price: $787.00
SolarWinds Kiwi CatTools Enterprise - Site License (25 max) with 12 Months Maintenance
License with 1st-year Maintenance
#300048942
Our Price: $5,775.00
SolarWinds Kiwi CatTools Enterprise - Country License (50 max) with 12 Months Maintenance
License with 1st-year Maintenance
#300048975
Our Price: $11,550.00
Click here to jump to more pricing!
Overview:
SolarWinds Kiwi CatTools is network automation tool that manages configurations on network devices such as routers, switches, and firewalls. It allows you to work more efficiently by scheduling automatic backup activities and rolling out configuration changes to multiple devices at the same time. With native support for devices from dozens of manufacturers, Kiwi CatTools simplifies network administration, configuration change alerting, and backup management.
Kiwi CatTools at a Glance
Schedule automated network configuration backups
Perform bulk configuration changes on multiple devices
Increase security with configuration change alerting
Perform network device management from one console
Compare device configurations and analyze changes
Roll back network configuration when needed
Affordable network configuration management for small business networks
See efficiency
Schedule automatic backup activities and roll out configuration changes to multiple devices at the same time.

Increase control
Pre-schedule changes to your network device configurations to occur only on the devices you choose, and only when you want them to.

Improve security
Get alerted on changes to your network equipment so you can head off any malicious activities.

Failsafe your IT
Quickly rollback configuration changes when needed to avoid issues before their impact is felt.
Features:
Schedule Automated Network Configuration Backups
Kiwi CatTools provides simplicity and automation to easily back up configuration from network devices. You can schedule backup activity for custom time intervals. CatTools has a built-in TFTP server that also supports the backup activity via TFTP.
Perform Bulk Configuration Changes on Network Devices
With Kiwi CatTools you can perform configuration changes on multiple devices simultaneously. Using the built-in TFTP server, you can apply configuration files to various devices. This makes it easy to roll back to a previous, good configuration.
Increase security with configuration change alerting
Constantly oversee network configuration changes. Kiwi CatTools detects and alerts on configuration changes and sends email notifications. This helps you to track unauthorized device configuration changes and security risks.
Compare Device Configurations and Analyze Changes
Kiwi CatTools lets you perform two types of configuration comparisons:
Compare current device configurations with the most recent backup
Compare running and startup configurations
You can view and analyze the results of a comparison on the console or generate a report.
Perform Network Device Management from One Console
Kiwi CatTools has many built-in 'Activities' that allow you to manage and work on network devices without having to use the Command Line Interface (CLI). Issue commands from the easy-to-use CatTools console and update a device's password or banner, perform inter-device pings, and more.
Generate Configuration and Device Information Reports
Kiwi CatTools provides many out-of-the-box reports in HTML and text file formats. It also supports sending these reports and statistics via email.
Multi-Vendor Device Support
Kiwi CatTools provides out-of-the-box support for devices from industry-leading manufacturers, including Cisco, HP, 3Com, Enterasys, F5, Huawei, Juniper, and more.
System Requirements:
Hardware
Minimum Requirements
CPU
1.2GHz
Memory
256MB
Hard Drive
350MB
Software
Minimum Requirements
Operating System
Server: Windows Server 2016, 2012, 2012 R2, 2008 R2
Workstation: Windows 10, 8.1, 8
.NET Framework
.NET 3.5 SP1
Database for Web Access
.Microsoft data access components and Jet 4.0 Database Engine
SolarWinds Products
Solarwinds Kiwi CatTools - 1 Year Maintenance
SolarWinds Kiwi CatTools - Full Install with 12 Months Maintenance
License with 1st-year Maintenance
#300047537
Our Price: $787.00
SolarWinds Kiwi CatTools Enterprise - Site License (25 max) with 12 Months Maintenance
License with 1st-year Maintenance
#300048942
Our Price: $5,775.00
SolarWinds Kiwi CatTools Enterprise - Country License (50 max) with 12 Months Maintenance
License with 1st-year Maintenance
#300048975
Our Price: $11,550.00
SolarWinds Kiwi CatTools Enterprise - Global License (150 max) with 12 Months Maintenance
License with 1st-year Maintenance
Solarwinds Kiwi CatTools - 2 Year Maintenance
SolarWinds Kiwi CatTools - Full Install with 24 Months Maintenance
License with 2nd-year Maintenance
#300047541
Our Price: $997.00
SolarWinds Kiwi CatTools Enterprise - Site License (25 max) with 24 Months Maintenance
License with 2nd-year Maintenance
#300048945
Our Price: $7,195.00
SolarWinds Kiwi CatTools Enterprise - Global License (150 max) with 24 Months Maintenance
License with 2nd-year Maintenance