Solarwinds Server Configuration Monitor

Detect, alert, and track configuration changes to servers, applications, and databases.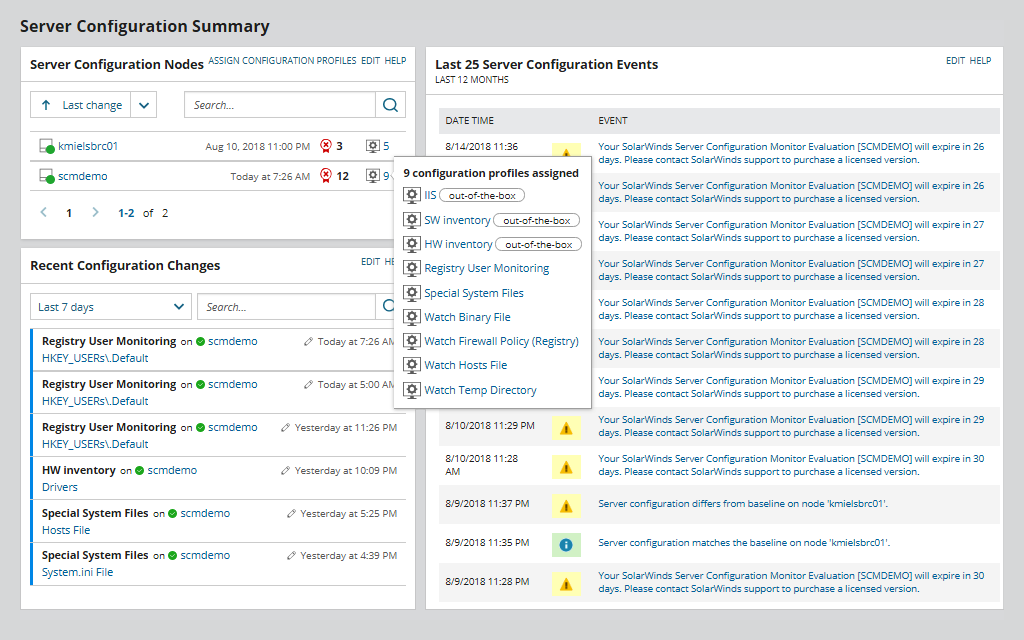 Overview:
Detect and compare configuration changes to your servers, databases, and applications
In modern IT environments, making configuration changes is easy, but tracking them and their impact is hard. Even with the best change control processes, it's often impossible to control all the configuration changes happening to your infrastructure. And when configurations start to drift, the problems start—outages, slowdowns, security breaches, and compliance violations. SolarWinds® Server Configuration Monitor (SCM) is designed to quickly reveal when server, application, or database configurations change, who's changing them, what changed, and performance impact—helping you have the necessary visibility to troubleshoot faster, improve security, and demonstrate compliance.
---
Server Configuration Monitor At A Glance
Detect, alert, and report on changes with hardware inventory, registry entries, binary and text files, software inventory, IIS configuration files, and script outputs
Operationalize compliance monitoring for server configurations
Capture and track who made configuration changes
Compare current configurations against a baseline or between two points in time
Correlate configuration changes with network and application performance
Automatically detect infrastructure eligible for monitoring
View and report on hardware and software inventories
Integrates natively with other SolarWinds modules built on the Orion® Platform
Affordable and simple licensing based on the number of devices monitored
---
Features Overview
Learn how answering "what's changed?" easily can help you.

Improve Visibility and Team Accountability
Don't let unexpected or unauthorized configuration changes compromise your environment.

Server Compliance Monitoring
Quickly understand if config changes line up with an outage or performance issue.

Simple, Integrated Experience
Get a unified experience with other SolarWinds systems, servers, and network management products.

Affordable
Simple-to-understand, affordable licensing allows you to fully support multiple projects.
Features:
Real-Time Detection and Tracking of System and Application Changes
Systems and applications are changing all the time. Continuously tracking all these changes is vital to the availability and performance of your services, and manual tracking is practically impossible. SCM can keep an eye on your system and application configurations, automatically logging changes, and alerting you when they have occurred.
Keep a Closer Watch on Your Databases
Your databases are mostly behind the scenes but are critical to keeping your business running. SCM monitors for configuration changes to this infrastructure and changes to user permissions and schemas.
Operationalize Your Compliance Policy Monitoring
Monitoring your server configurations against compliance policies can be cumbersome. With adding a policy engine, out-of-the box policies for DISA STIG, and new alerts and reports for compliance policies, SCM can help operationalize compliance monitoring.
Discover Changes Made Offline
SCM is an agent-based monitoring solution, meaning it can catch configuration changes even when the server is disconnected from the network. Once it's online again, the agent alerts you to changes.
Compare Configuration Changes Over Time
Trying to determine what's different between two configuration versions is difficult. With SCM, you can stop the tedious "stare and compare" and immediately see the exact changes in a single view. SCM also hides unchanged lines to make it easy to focus on what's important.
Correlate Configuration Changes to Performance Metrics
The main purpose of any monitoring tool is the ability to pinpoint the root cause of the problem as soon as possible. When integrated with other Orion® Platform products, SCM allows you to correlate changes with availability and performance. If a server is slow due to a bad configuration change, you can find it and fix it quickly.
Manage Scripts and Monitor Changes to Their Output
Systems administrators rely on the power of custom scripts to report on critical data. With SCM, you can centrally manage PowerShell, Bash, and Python scripts for the servers in your environment and track and alert on changes to the output.
Manage Your Hardware and Software Inventory
Forget about using a spreadsheet for IT asset management. SCM automatically discovers your servers and application for you, keeping your hardware and software inventory information up to date.
Orion Platform Integration
SCM is built on the SolarWinds Orion Platform, providing full integration with our server, application, virtualization, storage, and network monitoring tools. All SolarWinds products based on the Orion Platform share the same user experience, powerful visualization, automatic mapping of relationships, versatile alerting engine, and robust reporting engine.
Server Configuration Monitor is a part of the SolarWinds Orion® Platform.

Change the way you think about IT. SolarWinds delivers central visibility and control through a tightly integrated experience.
One vendor. One platform. One single pane of glass.
Get notified if configuration changes impact system and application availability or performance by pairing SolarWinds® Server Configuration Monitor (SCM) with SolarWinds Server & Application Monitor (SAM).


Use PerfStack™ to correlate database changes in SCM with the response time measured by SolarWinds Database Performance Analyzer (DPA) to help identify whether performance issues were caused by configuration changes.


Gain visibility into configuration changes and policy compliance across your infrastructure by combining SCM and SolarWinds Network Configuration Manager (NCM).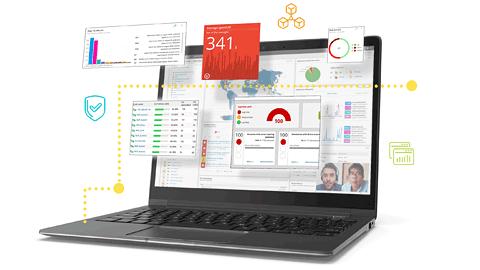 System Requirements:
Orion Platform products can be deployed on physical or virtual servers on-Orion Platform products can be deployed on physical or virtual servers on-premises or in the cloud. These products can also be deployed via the Azure or AWS marketplaces.
For detailed system requirements, visit support.solarwinds.com.
Licensing
SolarWinds SCM is licensed by the number of nodes. A node is defined as a server, virtual machine, virtual host, or OS instance. It doesn't matter how many applications or databases run on the server, since the server itself is simply one node.
How is Server Configuration Monitor (SCM) licensed?
Straightforward licensing
SCM is licensed by the number of nodes that will be monitored. A node is defined as a server, virtual machine, virtual host, or OS instance.
What kind of changes can be monitored?
Change Monitoring for Windows and Linux.
Server Configuration Monitor supports change monitoring for both Windows and Linux servers and applications.
| Change Monitoring Capabilities | Windows | Linux |
| --- | --- | --- |
| Hardware | | |
| Software | | |
| Binary Files | | |
| Text Files | | |
| PowerShell Script Outputs | | |
| Python Script Outputs | | |
| Bash Script Outputs | | |
| Windows Registry | | N/A |
| Linux Packages | N/A | |
Does SCM integrate with other products?
Built on the Orion Platform
SCM is built on Orion, so it can integrate with Server & Application Monitor (SAM), allowing you to correlate change configuration to performance.
What monitoring profiles does SCM come with and how do I get more?
Get out-of-the-box profiles or create custom profiles.
Server Configuration Monitor comes with out-of-the-box profiles made to monitor hardware and software configuration changes, changes to IIS, changes to sensitive files and groups in Linux, and changes to Linux files impacting operations.
Additionally, you can monitor other files, directories, or configurations with custom built profiles. The ability to monitor script output changes for PowerShell, Python, and Bash means the profiles you can build are only limited to your scripting abilities or those you can find online.
Get in touch with a Solarwinds Solutions Specialist today to Learn More!