Solarwinds Dameware Remote Everywhere

Deliver on-demand remote support from anywhere with our cloud-based solution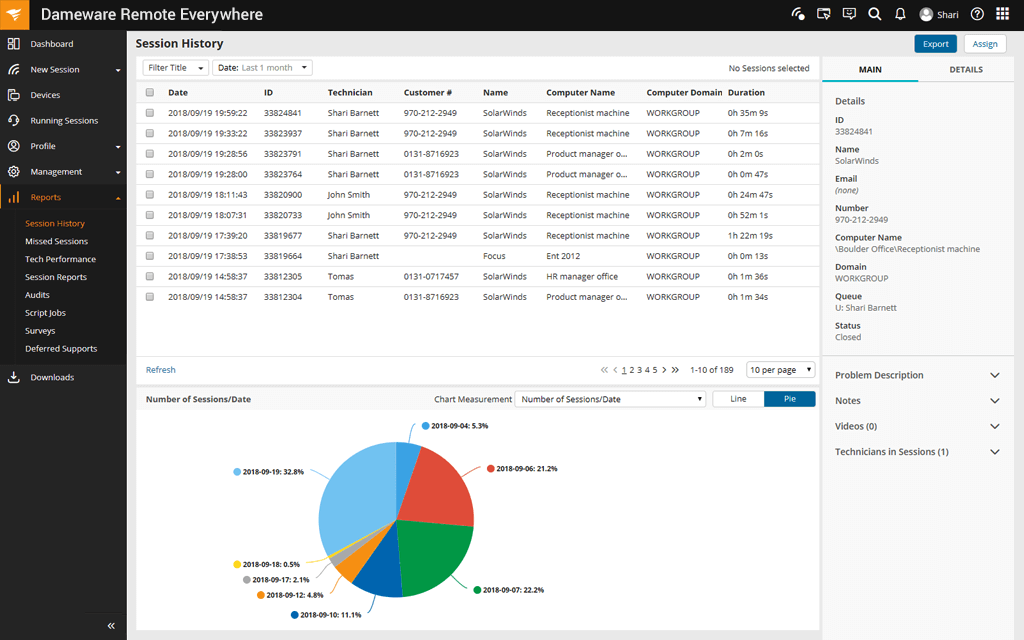 Overview:
SolarWinds Dameware Remote Everywhere provides a uniquely powerful remote support solution for IT professionals to access nearly any platform or device to solve issues quickly. It delivers clear visibility and communication capabilities to solve technical problems fast and delight end users. Packed with all the features of premium, expensive solutions, DRE offers powerful tools, reporting, and session monitoring at an affordable price. Whether responding to a user support request or performing unattended maintenance, with DRE, technicians can complete any remote support function with minimum clicks and time.
---
Features Overview
Dameware Remote Everywhere is a fast, simple, and lightweight cloud-based remote support solution, accessible from almost anywhere with an internet connection.

Fast Issue Resolution
When an end user has an issue, DRE helps you solve it fast. Avoid long connection or software response times.

Unattended Support
Don't bother an end user unnecessarily; resolve their issues from behind the scenes.

From Anywhere to Everywhere
Get quick remote access from Windows, Mac OS X, or Linux to any desktop or mobile device such as Android or iOS.

High-Resolution Support
Crystal-clear visibility in HD, scaled by the capability of your network.
Solutions:
For Your Technicians
Techs need sharp, powerful tools to diagnose issues quickly and ensure end users get the service they expect. DRE offers some of the most advanced troubleshooting, communication, and security features to get the job done fast and right.
In-Session Features
Session recording
Session notes and search
Missed session notifications
Color and quality adjustment for high- to low-bandwidth users
Fast video streaming
Full-screen and fit-screen views
Hide wallpaper and screen blanking
Automatic keyboard translation mapping
Block remote keyboard and mouse
Session transfer and multisession handling
Technician screen sharing
Change terminal services session
View-only (monitor-only) sessions
Blank screen
Pause session
Troubleshooting and Maintenance Tools
Run local batch script (system shell session)
System CMD shell
PowerShell
Send CTRL-ALT-DEL
Windows 8 and 10 commands
Force reboot and reconnect—in Safe Mode if necessary
Restart and shutdown
Terminal session access with user access selection
Port and RDP forwarding
Lock PC
Prevent auto-sleep, auto-lock, and inactivity disconnects
Blank screen
Pause session
Take screenshot
Communication and User Help Tools
Remote printing for Mac and Windows on any printer
Live chat
VoIP
Video conference call
Laser pointer
Switch presenter role
Dashboard Controls
Basic system info (OS, CPU, RAM Network, Disc space)
System health (temps, system info)
BIOS and device details
Video Controller and AV active
Firewall on
Applications and drivers
Start-up programs
Windows event logs and updates
For Your Business
DRE not only provides clear dashboards and data to help you optimize business efficiency, but also gives you tremendous flexibility to brand and configure elements for your organization. DRE also considers ironclad security fundamental, so you and your end users can rest assured that data is designed to stay safe at every point in the support process.
Configuration
Customization of Agent and Applet components
Custom Terms of Service
Email customization and branding
PIN code expiration options
Controls for idle session timeouts, expected wait time visibility, showing users their position in wait queue
Mass deployment of agents to machines
Management Features
Flexible and granular technician creation
Multi-layer authentication
Advanced device inventory
End-user remote access capability
Ability to organize by department
SolarWinds Dameware Remote Everywhere proxies
Deferred support-request capabilities and queuing
Custom warnings and communications
Mandatory and optional surveys for end users
Calling cards
Reporting
Real-time session monitoring
Session History report with option to drill down into all details and export to .xls
Session video recording with upload to cloud
Real-time and historical technician performance
For Your End Users
A simple and pleasant end-user experience is always the IT support professional's goal. Fast, simple connection and fluid communication are critical to making sure end users and technicians resolve issues swiftly, the first time.
One-click support requests
Quick connect from startcontrol.com and 6-digit PIN
Expected wait time information
Position in support queue information
Receipt of session links through email
Live chat, VoIP calling, and video conference calls
Pre-session chat
Laser pointer
Calling cards
Automatic report receipt
Post-session surveys
System Requirements:
Hardware and Software
Requirements
Operating System (Technician Console)

Windows XP or later
macOS 10.12 or later
Android 4.0 or later
iOS 9.0 or later

Operating System (Agent)

Windows XP or later
macOS 10.12 or later
Android 4.0 or later
iOS 9.0 or later
CentOS 7 and 8
Fedora 31 and 32
Debian 9 and 10
Ubuntu 18.04 and 20.04 (LTS variants)

Network
Ability to make direct outgoing TCP connections, or availability of an HTTP proxy or SOCKS server
Hard drive space
20 MB
CPU
450 MHz
RAM
128 MB
Port requirements
The ports identified in the tables below must be accessible for Dameware Remote Everywhere remote control connections.
If the agent has a direct TCP port configured, the same port must be open at the agent's firewall and be accessible by the viewer.
Dameware Remote Everywhere can use the UDP transmission model to connect to devices in addition to TCP.
Initially, the Dameware Remote Everywhere viewer requires access to port 1234. After the system administrator modifies the firewall to enable the identified IP addresses to communicate with the server, the ports can be random.
| Port | Protocol | Service | Direction | Description |
| --- | --- | --- | --- | --- |
| 80 | TCP | - | Outbound | Required for HTTP connectivity |
| 443 | TCP | - | Outbound | Required for HTTP connectivity |
| 1234 | UDP | - | Bidirectional | Required for P2P connections |
| 1235 | UDP | - | Bidirectional | Required for P2P connections |
| 3377 | TCP | - | Outbound | Failover port where DPI is enabled |
When using Dameware Remote Everywhere, the SolarWinds N-central server must be able to resolve the following domain names:
*.mspa.n-able.com
sis.n-able.com
Is a cloud solution right for my organization?
Give it a try.
Register for a 14-day, risk-free trial. You'll receive a fully functional version of Dameware Remote Everywhere. You can be up and running typically in minutes.
If your organization requires an on-premises solution, take a look at Dameware Remote Support.
Does SolarWinds offer training or certification for Dameware Remote products?
Yes, the SolarWinds Academy provides these resources for you.
In the SolarWinds Academy, you can find e-learning as well as instructor-led classes to take you from the basics through optimization—all in a single location.
How do I connect with other SolarWinds users?
Visit our THWACK online community.
SolarWinds solutions are rooted in our deep connection to our user base in the THWACK online community. More than 150,000 members are here to solve problems, share technology and best practices, and directly contribute to our product development process.
Get in touch with a Solarwinds Solutions Specialist today to Learn More!