Solarwinds Papertrail

Cloud-hosted log management for faster troubleshooting of infrastructure and application issues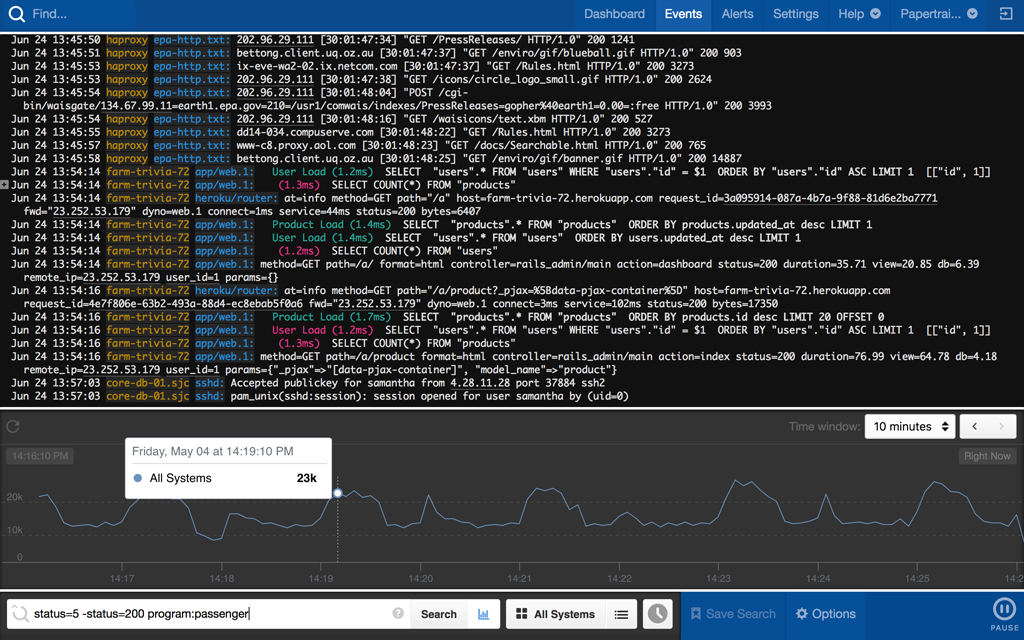 Overview:
The Papertrail time-saving log tools include fast lightning search, flexible system groups, team-wide access, long-term archives, charts and analytics exports, monitoring webhooks, and typically a 45-second setup.
Realize value from logs you already collect. Track down customer problems, error messages, app requests, slow DB queries, and config changes. Quickly visualize patterns and identify anomalies with log velocity analytics.
---
Log management shouldn't be hard.
Do you find yourself asking…
How can I gain instant visibility into my logs?
Papertrail gives you a single interface to view all your log files.
How can I analyze my logs in real-time?
Automatically scan your logs and parse events into individual data tokens.
How can I consolidate my syslog messages on the cloud?
Consolidate events to a single location for easier storage and management.
---
Features Overview
With Papertrail, you can consolidate your logs in one place with a cloud-hosted log management service that takes typically only minutes to set up.

Powerful
Quickly diagnose and fix customer problems, error messages, app server errors, and slow DB queries with full visibility across all logs.

Unexpected Simplicity
Papertrail is easy to implement, use, and understand. You get instant visibility across all systems in minutes.

Affordable
Starting at $7.00/month, Papertrail has many easy-to-understand plans that are available to meet your requirements.

Full Stack Monitoring
Papertrail is part of SolarWinds Cloud™, the next evolution of our Software-as-a-Service (SaaS) portfolio for monitoring cloud-native applications and infrastructures.
Features:
Troubleshoot fast
Diagnosing a monitoring alert, app server error, customer service ticket, or missing email? Just search or tail messages, metadata, even substrings. Jump to a time, system, group of systems, or context. Save searches to reuse and even show to coworkers. With lightning search and velocity graphs, faster log searches and error visualization result in quicker diagnoses and shorter time to resolution.
See related events together
Create flexible log views in a few clicks. Turn related systems into event streams, like NY colo, Big App, or DB servers. Automatically put new systems in the right place using hostname wildcards. Save searches to create a "curated" log dashboard.
Spread visibility around
Help less-technical staff take advantage of logs (without SSH/RDP knowledge or access). A lead engineer can populate groups, searches, and alerts that the team can use. Stay current without logging in. Receive nightly summary emails and copy-friendly links. One syntax works for web, CLI, and API.
Get back to work
Typically setup averages 45 seconds and works with autoscaling cloud systems, VPSes, NAT, dynamic IPs, and log hosts. Papertrail is fully supported and you can use any common syslog daemon or our collector for text log files.
React and Analyze
Mix in other web services and your own apps. Have Papertrail notify your app via HTTP when a search has new matching logs. Your app can reside anywhere on the internet.
Get in touch with a Solarwinds Solutions Specialist today to Learn More!