Solarwinds Kiwi Syslog Server

Centralize and simplify log message management across network devices and servers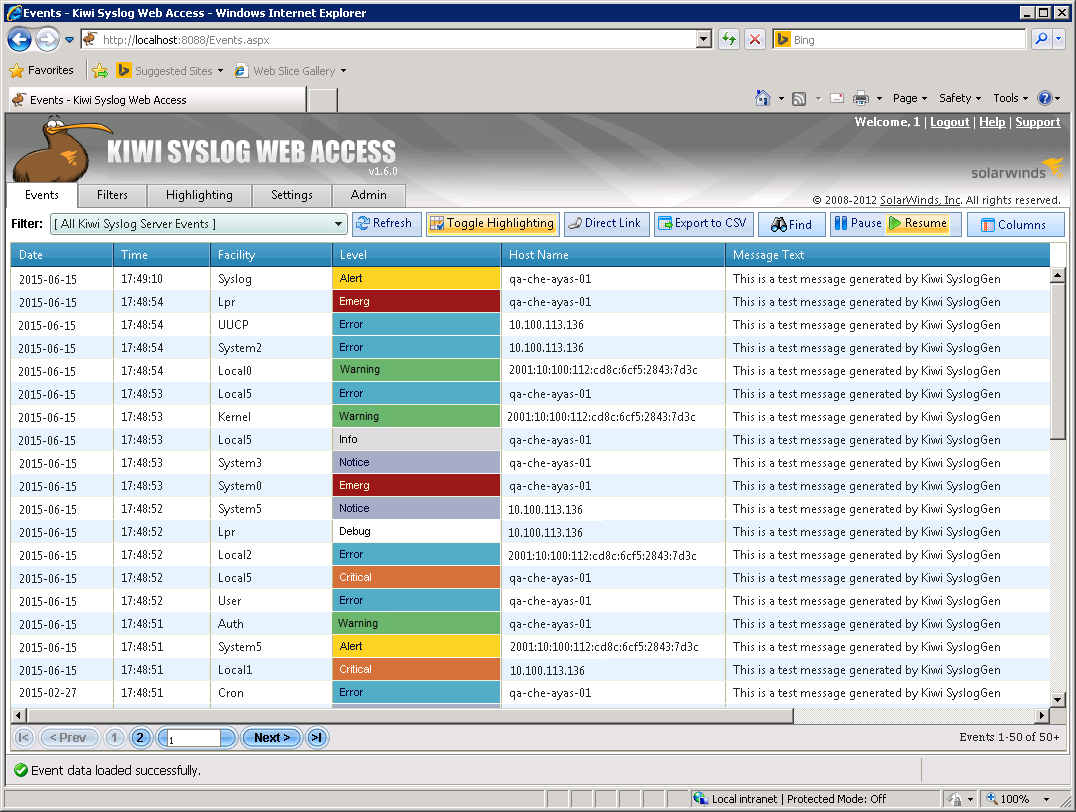 SolarWinds Products
Solarwinds Syslog Server - 1 Year Maintenance
SolarWinds Kiwi Syslog Server - Single Install with 12 Months Maintenance
License with 1st-year Maintenance
#300052052
Our Price: $295.00
SolarWinds Kiwi Syslog Server - Site License (25 max) with 12 Months Maintenance
License with 1st-year Maintenance
#300052060
Our Price: $2,275.00
SolarWinds Kiwi Syslog Server - Country License (50 max) with 12 Months Maintenance
License with 1st-year Maintenance
#300052068
Our Price: $4,495.00
Click here to jump to more pricing!
Overview:
SolarWinds Kiwi Syslog Server is an affordable syslog management tool for network and systems engineers. It receives syslog messages and SNMP traps from network devices (routers, switches, firewalls, etc.), and Linux/Unix hosts. You can filter and view these messages based on time, hostname, severity, etc., and set up custom alerts. Kiwi Syslog Server has built-in actions to react appropriately to syslog messages. There are also log archival and clean-up features that help you comply with security policies.
Kiwi Syslog Server at a Glance
Centralized monitoring of syslog messages, SNMP traps and Windows event logs
Intuitive Web console to filter and view logs
React to messages: send email alerts, run programs, or forward data when messages arrive
Scheduled log archival and cleanup helps with regulatory compliance
View trend analysis graphs, and send email with traffic statistics
Affordable software to manage syslog messages, SNMP traps, and Windows event logs

Deploy quickly
Start collecting syslog messages, SNMP traps, and Windows® event log data from your IT infrastructure in minutes.

Monitor real-time logs
Display and monitor logs on a secure and intuitive web interface.

Respond to messages
Send email, run programs, or forward data when selected messages arrive.

Troubleshoot issues
Centralize logs from systems and network devices to quickly pinpoint issues.

Maintain regulatory compliance
Implement log retention requirements of PCI DSS, SOX, HIPAA, FISMA, and more.
Features:
Powerful and Robust Syslog Server
Kiwi Syslog Server listens to syslog messages and SNMP traps from network devices and Linux/ Unix hosts for comprehensive, network-wide log management. Kiwi Syslog Server is easy to install and use.
Supports unlimited number of devices for syslog collection
Designed to handle up to 2 million messages per hour
Supports log collection from both IPv4 and IPv6 devices
Centralized Syslog Monitoring
Kiwi Syslog Server includes a centralized, easy-to-use Web console to view, search, and filter syslog messages. The Web console provides up to 25 log display views that you can customize according to your filter criteria. You can generate graphs of syslog statistics over specific time periods.
Advanced Syslog Alerting
Kiwi Syslog Server's intelligent alert functionality notifies you when the predefined criteria of a syslog is met based on time, type of syslog message, syslog source, etc. Send an email alert or instant message, play a sound, send a pager message or SMS, and more.
Built-in Actions to React to Syslog Messages
Kiwi Syslog Server includes a host of built-in actions to react to syslog messages including:
Trigger email notifications and reports
Run scripts or external programs
Log to a file, Windows event log, or database
Split written logs by device, IP, hostname, date, or other message/time variables
Forward syslog messages, SNMP traps (v1, v2, v3) to another host
Forward Windows Events to Kiwi Syslog Server
In addition to syslog messages and SNMP traps, Kiwi Syslog Server allows you to monitor Windows events. Using the free tool, Log Forwarder for Windows, you can forward Windows event logs to Kiwi Syslog Server as syslog messages. When Kiwi Syslog Server receives the syslog messages, you can perform log management actions on the Windows events.
Retain and Archive Logs
Kiwi Syslog Server helps you meet SOX, PCI-DSS, FISMA, and other regulations by allowing you to log syslog messages to disk, files, and ODBC-compliant databases. You can use the integrated scheduler to schedule and run automated archive and clean-up tasks. Then you can implement your log retention policy. Additionally, you can schedule log management actions, including compress, encrypt, move, rename, and delete.
Forward Syslog Messages and SNMP Traps
You can use Kiwi Syslog Server to forward syslog messages and SNMP traps to other syslog hosts in external network management systems and security information and event management (SIEM) systems.
Securely Transport Logs Over Any Network
Using the optional, free Kiwi Secure Tunnel, you can receive, compress, and securely transport syslog messages from distributed network devices and servers to your instance of Kiwi Syslog Server.
Integration with Solarwinds IT Management Tools
Kiwi Syslog Server can forward syslog messages and SNMP traps to:
Network Performance Monitor (NPM): Let Kiwi Syslog Server act as the middle man in filtering out all the unwanted syslog messages from devices before they are being sent to the NPM's primary/additional poller. Benefit from longer syslog retention capabilities using Kiwi Syslog Server.
Security Event Manager (SEM): Forward log messages to SEM for deeper security analysis, real-time event correlation, and threat detection and remediation.
Loggly: Forward log messages to Loggly for proactive monitoring and advanced analysis in the cloud.
Papertrail: Forward log messages to Papertrail™ for storing and analyzing logs in the cloud.
System Requirements:
| Hardware | Minimum Requirements |
| --- | --- |
| CPU | 1.2GHz |
| Memory | 256MB |
| Hard Drive | 350MB |
| Software | Minimum Requirements |
| Operating System | Windows Server 2019, 2016, 2012, 2012 R2, 2008 R2 |
| .NET Framework | .NET 4.8, .NET 3.5 |
| Database for Web Access | SQL Compact edition (up to 4GB of disk space) |
Screenshots: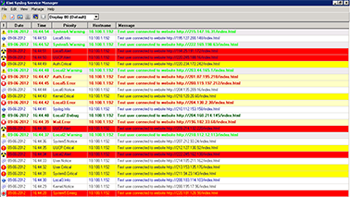 Manage syslog messages and SNMP traps
Consolidate all your SNMP traps, syslog messages and Windows event logs into a single view.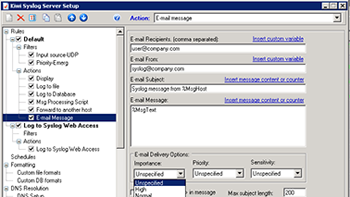 Receive real-time alerts
Create advanced alerts based on syslog message content, message volume, or meta data and custom conditions.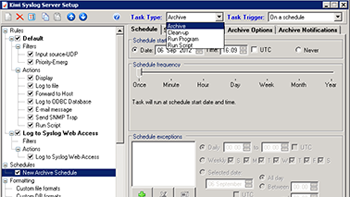 Store and archive logs for compliance
Schedule automated log archival, clean-ups, and scripts, including options for compression and encryption.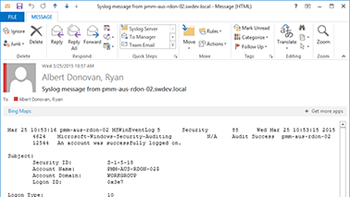 Generate automated reports
Easily create and schedule reports to view graphs of syslog statistics over specific time periods.
SolarWinds Products
Solarwinds Syslog Server - 1 Year Maintenance
SolarWinds Kiwi Syslog Server - Single Install with 12 Months Maintenance
License with 1st-year Maintenance
#300052052
Our Price: $295.00
SolarWinds Kiwi Syslog Server - Site License (25 max) with 12 Months Maintenance
License with 1st-year Maintenance
#300052060
Our Price: $2,275.00
SolarWinds Kiwi Syslog Server - Country License (50 max) with 12 Months Maintenance
License with 1st-year Maintenance
#300052068
Our Price: $4,495.00
SolarWinds Kiwi Syslog Server - Global License (150 max) with 12 Months Maintenance
License with 1st-year Maintenance
#300052076
Our Price: $11,195.00
Solarwinds Kiwi Syslog Server - 2 Year Maintenance
SolarWinds Kiwi Syslog Server - Single Install with 24 Months Maintenance
License with 2nd-year Maintenance
#300052053
Our Price: $395.00
SolarWinds Kiwi Syslog Server - Site License (25 max) with 24 Months Maintenance
License with 2nd-year Maintenance
#300052061
Our Price: $2,795.00
SolarWinds Kiwi Syslog Server - Country License (50 max) with 24 Months Maintenance
License with 2nd-year Maintenance
#300052069
Our Price: $5,595.00
SolarWinds Kiwi Syslog Server - Global License (150 max) with 24 Months Maintenance
License with 2nd-year Maintenance
#300052077
Our Price: $14,545.00