Solarwinds Server & Application Monitor

Detect and Troubleshoot Performance Issues Faster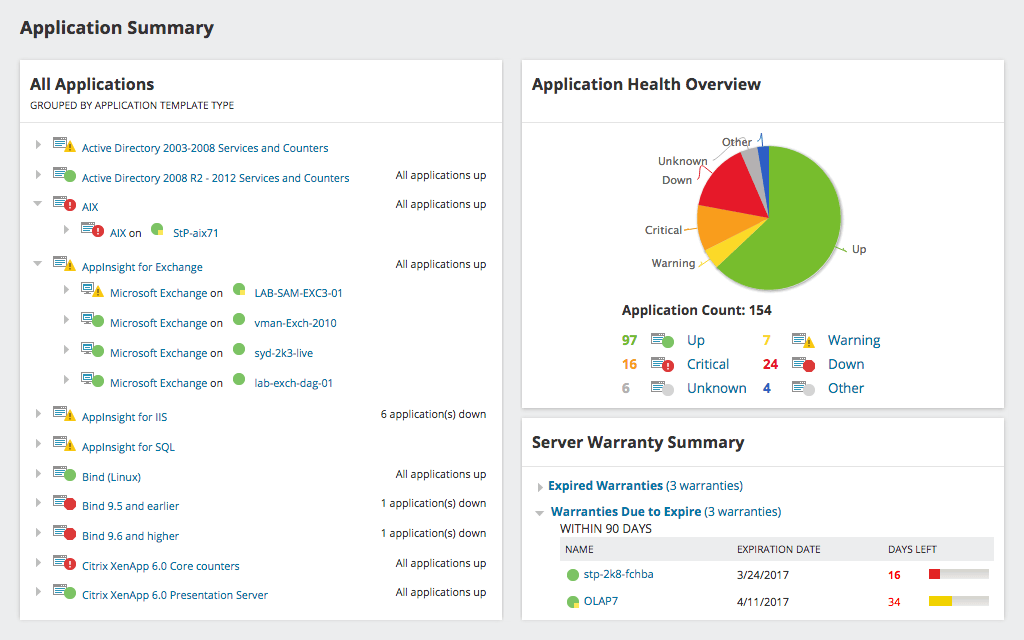 SolarWinds Products
Solarwinds Server & Application Monitor
SolarWinds Server & Application Monitor AL150 (up to 150 monitors)
License with 1st-year Maintenance
#4802
Our Price: $2,995.00
SolarWinds Server & Application Monitor AL300 (up to 300 monitors)
License with 1st-year Maintenance
#4803
Our Price: $5,795.00
SolarWinds Server & Application Monitor AL700 (up to 700 monitors)
License with 1st-year Maintenance
#4804
Our Price: $10,595.00
Click here to jump to more pricing!
Overview:
SolarWinds Server & Application Monitor (SAM) is designed to monitor your applications and their supporting infrastructure, whether running on-premises, in the cloud, or in a hybrid environment. Don't let slow applications and downtime impact your end users and business services. Pinpoint the root cause of application issues across various layers of the IT stack. Automatically discover your application's environment and start monitoring typically in about an hour. No professional services or consultation needed
Server & Application Monitor at a Glance
Monitor your entire on-premises, cloud, or hybrid application environment and infrastructure from one tool.
1,200+ application, system, and infrastructure monitoring templates. 1,000+ community templates and custom template creation, leveraging multiple protocols/approaches (REST API, WMI, SNMP, PowerShell).
Comprehensive monitoring for Microsoft® applications, systems, hypervisor, IaaS, PaaS, and SaaS products.
Visualize and map the dynamic communication-based relationships between applications and servers, so you can discover network issues slowing down your applications.
Features:
Application Availability and Performance Monitoring
Over 1,200 application, system, infrastructure, and cloud templates, including Windows, Linux, Java, Active Directory, SharePoint, Citrix, Office 365 accounts, and more. You can easily extend monitoring to custom or home-grown applications and leverage your existing scripts to build new monitors.
Application Infrastructure Dependency Mapping
The built-in AppStack™ dashboard is designed to give you a contextual view of how applications are linked to other components within the IT infrastructure, including servers, virtual machines, and storage systems.
Monitor Cloud Applications
SAM's agent and agentless deployment can be extended to monitor IaaS environments, such as Azure and AWS, PaaS services for Microsoft Azure, and SaaS services for Office 365. SAM also provides container monitoring for Docker, Kubernetes, and Mesos.
Dynamic Maps
SAM can automatically discover the relationships between applications and servers based on active application communication and can collect network connection statistics, such as packet loss and latency.
Deep Monitoring of Microsoft Active Directory, Exchange, IIS, and SQL Server
The built-in AppInsight™ monitoring templates are designed to deliver deep visibility to help you identify complex performance issues in Microsoft Exchange™, IIS™, and SQL Server.
Active Directory: Get detailed AD statics, such as replication, FSMO roles, site details with subnets, user and computer events, logon events, process and services details, and more
Exchange: View mailbox database status and storage, identify replication issues, and monitor user mailbox activity
IIS: Monitor availability of websites and application pools, report SSL certificate expiration, and perform remote actions to start/stop application pools
SQL Server: Monitor connections, sessions, database transactions, disk I/O, storage, latches, locks, SQL agent job status, expensive queries by CPU time, and more
Cross-Stack IT Data Correlation
Accelerate identification of root cause by dragging and dropping network performance metrics on a common timeline for immediate visual correlation across your network data.
Customizable Performance and Availability Reports and Alerts
Schedule and generate custom system performance reports and alerts with hundreds available out of the box. Quickly configure alerts and reports for correlated events, sustained conditions, and complex combinations of device states.
Server & Application Monitor is a part of the SolarWinds Orion Platform.

Change the way you think about IT. SolarWinds delivers central visibility and control through a tightly integrated experience.
One vendor. One platform. One single pane of glass.
View performance, uptime, capacity, and resource utilization across the IT stack by combining SolarWinds® Server & Application Monitor (SAM) with SolarWinds Virtualization Manager (VMAN) and SolarWinds Database Performance Analyzer (DPA)..


Make sure configuration issues aren't impacting the performance of your systems and applications by pairing SAM with SolarWinds Server Configuration Monitor (SCM).


Accelerate system troubleshooting by using SAM with SolarWinds Log Analyzer (LA) to view log data and systems performance side by side.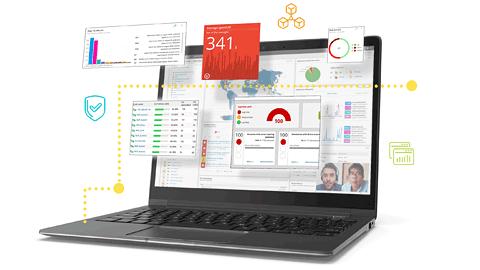 System Requirements:
Hardware
Minimum Requirements
CPU
Quad core processor or better
Memory
6GB
Hard Drive
20GB minimum
Software
Minimum Requirements
OS
Windows Server 2016 or later
Database
On-premises

SolarWinds supports Express, Standard, or Enterprise versions of the following:



SQL Server 2014, 2014 SP1, 2014 SP2
SQL Server 2016, 2016 SP1
SQL Server 2017 (including installations on Linux)
SQL Server 2019

Cloud

Amazon RDS
Azure SQL database, Managed Instance
NOTE: The minimum server requirements listed assume default configuration. Significantly increasing the poll rate or statistic collection rate could result in additional load on the server, which may require a larger CPU or additional memory.
SolarWinds Products
Solarwinds Server & Application Monitor
SolarWinds Server & Application Monitor AL150 (up to 150 monitors)
License with 1st-year Maintenance
#4802
Our Price: $2,995.00
SolarWinds Server & Application Monitor AL300 (up to 300 monitors)
License with 1st-year Maintenance
#4803
Our Price: $5,795.00
SolarWinds Server & Application Monitor AL700 (up to 700 monitors)
License with 1st-year Maintenance
#4804
Our Price: $10,595.00
SolarWinds Server & Application Monitor AL1100 (up to 1,100 monitors)
License with 1st-year Maintenance