Solarwinds Storage Resource Monitor

Storage resource management reporting for health, performance, and capacity of multi-vendor storage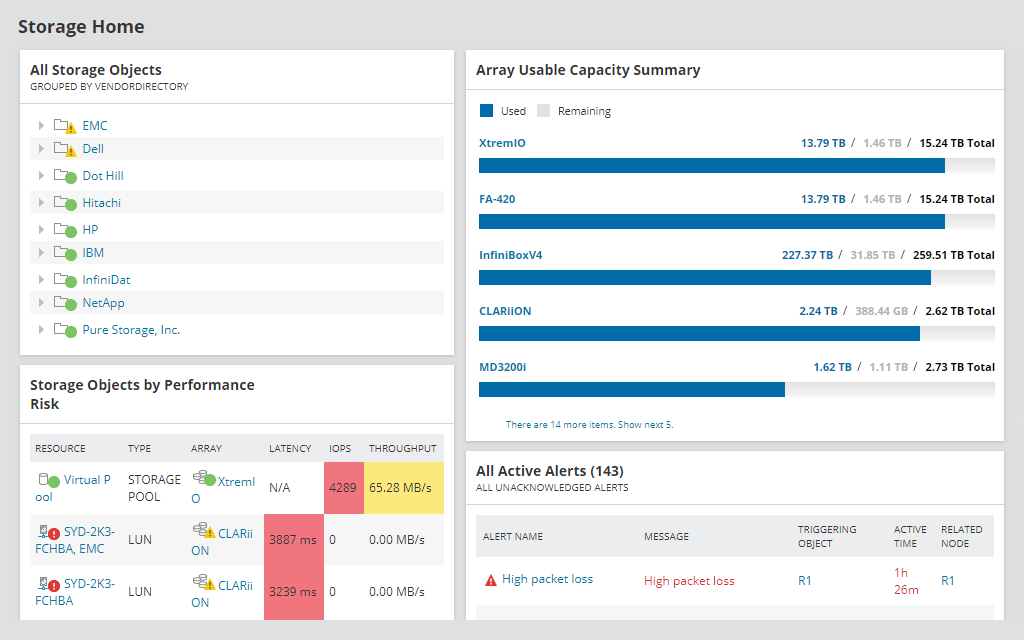 SolarWinds Products
Solarwinds Storage Resource Monitor
SolarWinds Storage Resource Monitor SRM25 (up to 25 disks)
License with 1st-year Maintenance
#16380
Our Price: $2,935.00
SolarWinds Storage Resource Monitor SRM50 (up to 50 disks)
License with 1st-year Maintenance
#16381
Our Price: $4,395.00
SolarWinds Storage Resource Monitor SRM150 (up to 150 disks)
License with 1st-year Maintenance
#16382
Our Price: $8,895.00
Click here to jump to more pricing!
Overview:
Get a comprehensive view into the performance and capacity of your heterogeneous storage environment with agentless NAS and SAN attached storage monitoring and reporting. Visualize your storage environment including volumes, RAID groups, storage pools, disks, and more. Extend your SolarWinds® Server & Application Monitor (SAM) and Virtualization Manager (VMAN) monitoring and reporting down to the device level with Storage Resource Manager Orion Platform integration.
Storage Resource Monitor at a Glance
Monitor storage resource performance & isolate hotspots in your multi-vendor storage environment
Get end-to-end visibility into the application stack and troubleshoot performance issues from application to storage with Server & Application Monitor and Virtualization Manager
Automate the collection and presentation of storage capacity planning & reporting
Reclaim storage space and simplify analysis of storage usage
Start monitoring your storage infrastructure in less than an hour
Features:
Storage Performance Monitoring
Get a unified view into the performance and status of your storage environment. Use Storage Resource Monitor (SRM) for real-time, agentless NAS and SAN performance monitoring, as well as monitoring data on volumes, RAID groups, storage pools, disks, etc. This helps prevent downtime and ensure that your storage network is always running at peak performance. Quickly and easily configure a full range of custom and pre-defined alerts.
Automated Storage Capacity Planning
Storage capacity planning is an arduous task, especially in a virtualized infrastructure. It typically involves manually creating complex spreadsheets. Storage Resource Monitor automates the collection of forecasting data so you can easily see growth rates, forecast costs and budgetary requirements, and project when capacity will be reached. In addition to simplifying storage capacity planning, SRM provides the information you need to avoid outages due to full disk errors. The centralized monitoring feature tracks performance over time to identify hot spots, peak hours, and potential outages.
Storage LUN Views
Storage LUN views give you a single-pane-of-glass look at LUN and all related infrastructure components (both physical and virtual), allowing you to diagnose performance issues. You can quickly determine if storage is truly the reason for poor VM performance. If you determine that the culprit is another VM or LUN, you can drill down and continue to diagnose the issue within the tool. The new storage LUN views are an ideal integration point between SolarWinds Virtualization Manager and Storage Resource Monitor (SRM). Virtualization Manager links to the LUN view from the cluster, ESX, VM, or datastore view. This enables you to see the storage under your VM infrastructure, putting you just a click away from total visibility. In addition, SRM offers more information related to your LUN groups using the user-defined LUN grouping where you can create new LUN groups, view LUN group information in the console, and leverage the groups for reporting.
Storage I/O Hotspot Detection
Storage I/O hotspot detection capabilities in Storage Resource Monitor scans your multi-vendor storage environment, identifies potential issues, and enables you to quickly access detailed information about the physical and virtual resources causing the problems.
Targeted Storage Discovery
SolarWinds' storage management and monitoring software simplifies storage monitoring setup by providing targeted recommendations for adding your specific device type to the system.
End-To-End Visibility of the Application Stack
Use Storage Resource Monitor (SRM) to access the application stack dashboard for end-to-end visibility into the applications and infrastructure resources, including the storage arrays built in the SolarWinds SRM module.
The application stack environment in SRM is designed to deliver a powerful layer of troubleshooting visibility by showing you application performance issues that are usually caused by the server, virtual, or storage infrastructure. Quickly assess the health of your environment, as well as troubleshoot specific, inter-related problems—all from one console.
This level of visibility is achieved as a result of the native integration between Storage Resource Monitor, Server & Application Monitor, and Virtualization Manager. The integration of the application stack dashboard allows you to better predict, prioritize, and resolve issues before end-users and the business is affected. Get end-to-end visibility into application performance problems all the way down to the storage level.
Storage Resource Monitor is a part of the SolarWinds Orion Platform.

Change the way you think about IT. SolarWinds delivers central visibility and control through a tightly integrated experience.
One vendor. One platform. One single pane of glass.
Fix storage issues faster by drilling into the datastore details in SolarWinds® Virtualization Manager (VMAN) to spot them, and use SolarWinds Storage Resource Monitor (SRM) to investigate each layer (array, pool, and LUN).


Quickly understand the impact of storage issues spotted in SRM by using VMAN and SolarWinds Server & Application Monitor (SAM) to identify the dependencies between VMs, hosts, and storage.


See the relationship between the LUNs and the critical apps and servers they support in AppStack™ when you use SRM with SAM to better understand the root cause of problems.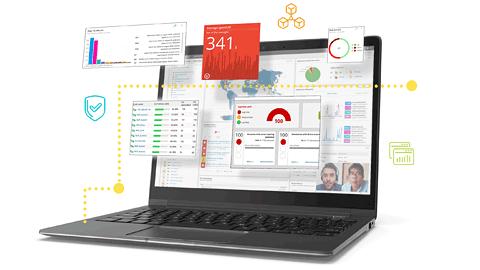 System Requirements:
Hardware
Minimum Requirements
CPU
Quad core processor or better
Memory
6GB
Hard Drive
20GB minimum
Software
Minimum Requirements
Operating System
Windows Server 2016 or later
Database
On-premises

SolarWinds supports Express, Standard, or Enterprise versions of the following:

SQL Server 2014, 2014 SP1, 2014 SP2
SQL Server 2016, 2016 SP1
SQL Server 2017 (including installations on Linux )
SQL Server 2019

Cloud

Amazon RDS
Azure SQL database, Managed Instance
NOTE: The minimum server requirements listed assume default configuration. Significantly increasing the poll rate or statistic collection rate could result in additional load on the server, which may require a larger CPU or additional memory.
Supported Storage Devices:
Storage Resource Monitor (SRM) is vendor- and platform-neutral, and supports a wide variety of array manufacturers, including:
NetApp:
NetApp E-series
NetApp Filers (OnTAP 7-mode)
Net App Filers (Clustered Data OnTAP (CDOT))
NetApp AFF
NetApp EF
Dell EMC:
Dell PowerVault MD3xxx
Dell EqualLogic
Dell Compellent
Dell EMC Data Domain
Dell EMC Clariion:
Dell EMC VNX
Dell EMC Celerra
Dell EMC Isilon
Dell EMC Symmetrix VMAX, VMAXe, DMX
Dell EMC XtremIO
Dell EMC VMAX3 (Flash Family)
IBM:
IBM N Series
IBM DS3xxx, 4xxx, 8xxx
IBM 6xxx, 8xxx
IBM Spectrum Virtualize (Vxxx and SVC)
IBM Spectrum Accelerate (XIV)
IBM (ESS) Enterprise Storage Server
IBM FlashSystem A9000/A9000R
IBM FlashSystem A9000/A9000R/ V9000
Hitachi:
Hitachi Data Systems AMS
Hitachi Data Systems USP, USPV, VSP
Hitachi Data Systems HUS 100 Blockside, HUS VM Blockside
HPE:
HPE Nimble Storage AF-Series & CS-Series
HPE StoreServ 3PAR
HPE StoreVirtual /LeftHand™ P4xxx
HPE StorageWorks EVA
HPE StorageWorks XP
HPE MSA/P2xxx
Huawei:
OceanStor v3/v5 Series
OceanStor Dorado™ v3 Series
Kaminario:
K2
K2.N
Other Vendors:
Oracle/SUN: StorageTek 2xxx & 6xxx, Virtual Storage Manager 99xx Series, Flex
Oracle/Pillar
Xiotech Emprise 7000, Magnitude 3D 3xxx and 4xxxr
ONStor
Dot Hill AssuredSAN 4xxx/5xxx
Pure Storage
LSI Arrays
INFINIDAT InfiniBox™ Fxxxx
SolarWinds Products
Solarwinds Storage Resource Monitor
SolarWinds Storage Resource Monitor SRM25 (up to 25 disks)
License with 1st-year Maintenance
#16380
Our Price: $2,935.00
SolarWinds Storage Resource Monitor SRM50 (up to 50 disks)
License with 1st-year Maintenance
#16381
Our Price: $4,395.00
SolarWinds Storage Resource Monitor SRM150 (up to 150 disks)
License with 1st-year Maintenance
#16382
Our Price: $8,895.00
SolarWinds Storage Resource Monitor SRM300 (up to 300 disks)
License with 1st-year Maintenance
#16383
Our Price: $13,295.00
SolarWinds Storage Resource Monitor SRM500 (up to 500 disks)
License with 1st-year Maintenance
SolarWinds Storage Resource Monitor SRM1000 (up to 1,000 disks)
License with 1st-year Maintenance