Solarwinds Web Performance Monitor

Website monitoring software built to find and fix internal and external site and app performance issues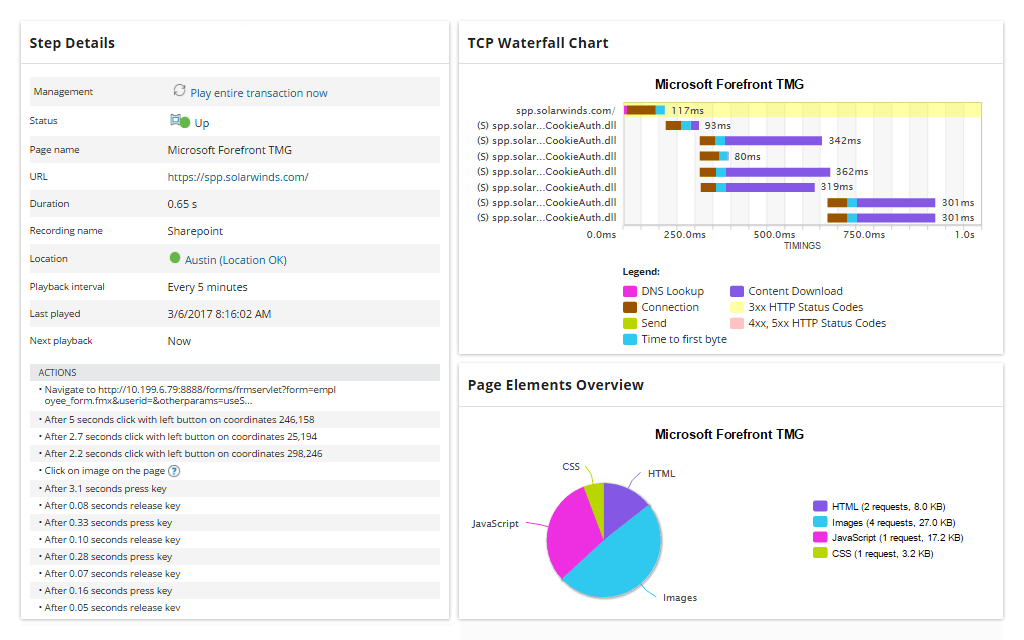 SolarWinds Products
Solarwinds Web Performance Monitor
SolarWinds Web Performance Monitor WPM5 (up to 5 web transactions)
License with 1st-year Maintenance
#2500
Our Price: $1,995.00
SolarWinds Web Performance Monitor WPM10 (up to 10 web transactions)
License with 1st-year Maintenance
#2501
Our Price: $2,995.00
SolarWinds Web Performance Monitor WPM20 (up to 20 web transactions)
License with 1st-year Maintenance
#2502
Our Price: $4,295.00
Click here to jump to more pricing!
Overview:
SolarWinds Web Performance Monitor tracks user experience and tests transactions for internal and external web sites and web-based applications—from any location. Quickly identify slow or failing elements, then troubleshoot down to the supporting infrastructure, from web server and database to storage hardware.
---
Web performance monitoring doesn't have to be complex.
Do you find yourself asking…
How can I monitor website performance for apps?
Web Performance Monitor can help you automatically monitor your web-based applications.
How do I monitor and test website speed?
Examine every aspect of your webpage, test website speeds and get notified of slow responses or downtime.
How can I improve uptime monitoring?
Continuously monitor uptime, front-end performance, and the website user experience.
---
Web Performance Monitor at a Glance
Know when users can't get to your site or web app, or are giving up because it's too slow
Track web service/SaaS application performance for both internal and external solutions
View website and infrastructure performance from a single view
Monitor user experience from multiple access locations
Automatically alert with configurable thresholds at each step of a transaction
---
Features Overview
Find out why top IT professionals use SolarWinds® Network Topology Mapper software.

Be the first to know
Website monitoring tools to find and fix web performance issues before users are affected.

Fully scalable
Monitor one to hundreds of applications from multiple locations.

Intuitive dashboard
Quickly see and troubleshoot issues from our configurable dashboard.

Track sites and apps inside or outside your firewall
Monitor critical business apps to protect workforce productivity.

Simple pricing model
Licensed by number of monitored transactions and locations, so test as frequently as needed.
Features:
Monitor Internal, SaaS-Based and Customer-Facing Web Apps
Easily monitor web applications such as CRM, supply chain, help desk, and more. Because Web Performance Monitor is installed within your firewall, you can safely monitor internal resources.
Easy-to-Use Transaction Recorder
Quickly and easily capture how a user interacts with your site or web app with our intuitive recorder—no scripting involved.
Application Stack Management Dashboard
When used with products like SolarWinds Server & Application Monitor, you can map the relationship between a transaction or page to its supporting servers, databases, virtual infrastructure, and storage resources. This allows you to see the underlying components and their status.
Web-Based Application Performance
With SolarWinds website monitoring software, you can quickly recognize if web services are causing a slow user experience in your third-party applications.
Detailed Load-Time Metrics
TCP waterfall charts quickly identify what page elements take the most time to load. You can monitor website elements such as HTML, CSS, and JavaScript, and overall performance and get notified for incomplete or slow transactions.
Monitor Transactions From Multiple Locations
Web Performance Monitor lets you monitor transactions from wherever you want, including locations within your firewall or from your Amazon EC2 instances.
Transaction Alerting/Notifications
Set warnings and custom timing thresholds for individual steps and entire transactions. Get notified automatically when a transaction fails.
Website and Web App Performance Reporting
Web-based reports make it easy to generate quick reports on page load speeds, transaction health, and website availability over time.
System Requirements:
Hardware
Minimum Requirements
CPU
Quad core processor or better
Memory
6GB
Hard Drive
20GB minimum
Software
Minimum Requirements
Operating System
Windows Server 2016 or later
Database
On-premises

SolarWinds supports Express, Standard, or Enterprise versions of the following:

SQL Server 2014, 2014 SP1, 2014 SP2
SQL Server 2016, 2016 SP1
SQL Server 2017 (including installations on Linux)
SQL Server 2019

Cloud

Amazon RDS
Azure SQL database, Managed Instance
NOTE: The minimum server requirements listed assume default configuration. Significantly increasing the poll rate or statistic collection rate could result in additional load on the server, which may require a larger CPU or additional memory.
SolarWinds Products
Solarwinds Web Performance Monitor
SolarWinds Web Performance Monitor WPM5 (up to 5 web transactions)
License with 1st-year Maintenance
#2500
Our Price: $1,995.00
SolarWinds Web Performance Monitor WPM10 (up to 10 web transactions)
License with 1st-year Maintenance
#2501
Our Price: $2,995.00
SolarWinds Web Performance Monitor WPM20 (up to 20 web transactions)
License with 1st-year Maintenance
#2502
Our Price: $4,295.00
SolarWinds Web Performance Monitor WPM50 (up to 50 web transactions)
License with 1st-year Maintenance
#2503
Our Price: $6,995.00
SolarWinds Web Performance Monitor WPM100 (up to 100 web transactions)
License with 1st-year Maintenance
#2504
Our Price: $12,495.00
SolarWinds Web Performance Monitor WPM200 (up to 200 web transactions)
License with 1st-year Maintenance