Solarwinds NetFlow Traffic Analyzer

Network Traffic Analyzer and Bandwidth Monitoring Software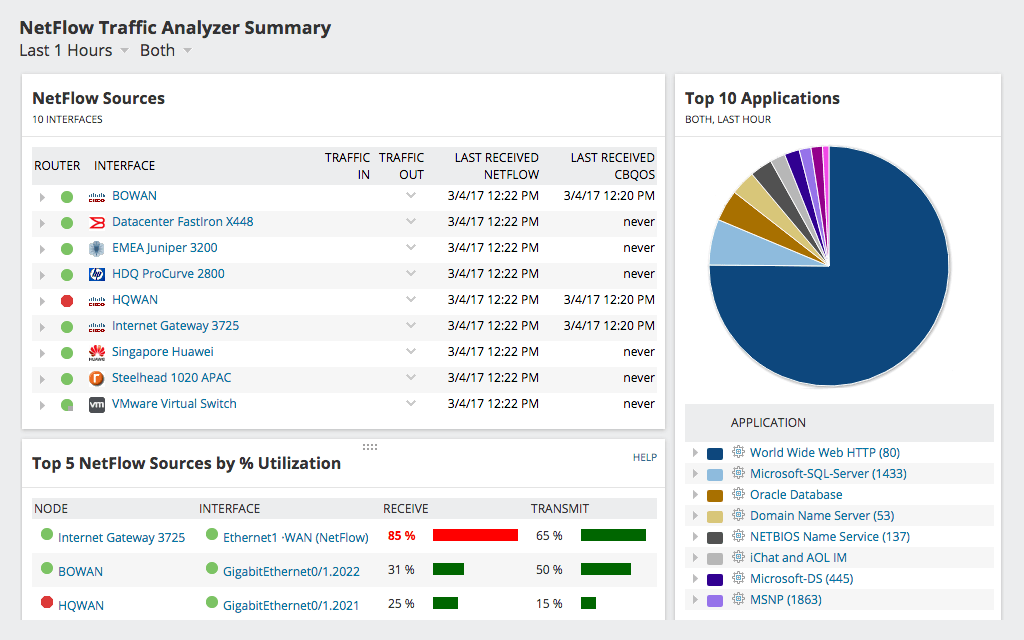 SolarWinds Products
Solarwinds NetFlow Traffic Analyzer
SolarWinds NetFlow Traffic Analyzer Module for SolarWinds NPM SL100 (up to 100 elements)
License with 1st-year Maintenance
#3050
Our Price: $1,875.00
SolarWinds NetFlow Traffic Analyzer Module for SolarWinds NPM SL100 (up to 250 elements)
License with 1st-year Maintenance
#3051
Our Price: $4,125.00
SolarWinds NetFlow Traffic Analyzer Module for SolarWinds NPM SL100 (up to 500 elements)
License with 1st-year Maintenance
#3052
Our Price: $6,355.00
Click here to jump to more pricing!
Overview:
Your network performance soars or suffers based on what users are doing. You've pleaded with employees to stop using the corporate network for bandwidth-hogging applications like streaming music and playing World of Warcraft, but no one seems to care. You've been called out by upper management due to poor network performance more times than you've thought about attending Comic-Con. You've enabled CBQoS to give higher priority to critical traffic like voice – but how do you know if these policies are effective? How can you analyze the traffic on your network so you can respond? Not to worry, we have an answer.
SolarWinds NetFlow Traffic Analyzer (NTA) enables you to capture data from continuous streams of network traffic and convert those raw numbers into easyto-interpret charts and tables that quantify exactly how the corporate network is being used, by whom, and for what purpose. With SolarWinds NTA, it's easier than ever to collect and analyze Cisco NetFlow, Juniper J-Flow, IPFIX, sFlow, Huawei NetStream, and other flow data.
---
NetFlow analysis and bandwidth monitoring shouldn't be hard.
Do you find yourself asking…
What is NetFlow and how does it work?
By analyzing flow data, a picture of traffic flow and volume can be built.
How can I see what is using bandwidth on my network?
See how NTA's NetFlow collector can benefit you.
How do I help improve Network Analysis?
Capture data from continuous streams of network traffic with NetFlow Analyzer.
---
NetFlow Traffic Analyzer at a Glance
Monitors network bandwidth & traffic patterns down to the interface level
Identifies which users, application, and protocols are consuming the most bandwidth
Highlights the IP addresses of top talkers
Explores historical IP flow conversations with up to one minute granularity
Analyzes Cisco NetFlow, Juniper J-Flow, IPFIX, sFlow, Huawei NetStream, and other flow data
---
Features Overview
Add NetFlow Traffic Analyzer to Network Performance Monitor to boost your NetFlow monitoring capabilities.

Clear visibility
Monitor your network, discover traffic patterns, and avoid bandwidth hogs with NetFlow Traffic Analyzer (NTA) and User Device Tracker NetFlow solutions.

Faster. Leaner. More secure.
Faster troubleshooting, increased efficiency, and greater visibility into malicious or malformed traffic flows with NetFlow analyzer insights.

Full integration
Work seamlessly with Orion Platform products, including Network Performance Monitor and Network Configuration Manager.

Conversation by Policy
Combine NTA with Network Configuration Manager (NCM) to show traffic conversations by policy in the context of the NCM Policy Details page.
Features:
VMware vSphere Distributed Switch (VDS) Support
Comprehensive support for the VMware VDS, providing visibility within the switch fabric to your east-west VM traffic to help IT pros avoid service impacts when moving workloads.
Integration With SolarWinds IP Address Manager (IPAM)
Reference existing IP groups and use those within NTA to view group traffic or compose custom applications. To complement this feature, we've enhanced our flow alerting to incorporate filters for IP groups and endpoints.
Cisco Meraki MX/Z Series Support
Visualize traffic flows from Cisco Meraki MX/Z Series interfaces for better control of bandwidth use in your wireless environment. Export traffic flows from routers, switches, and firewalls.
Network Insight™ for Palo Alto Networks
Network Insight for Palo Alto Networks includes collection of flow from Palo Alto firewalls to show flow through nodes and interfaces.
Azure SQL Database Deployment Option
Flexible deployment options with Azure SQL Database: Take charge of your NTA deployment with flexibility to deploy NTA either on-premises or in the cloud with Azure SQL Database or Amazon RDS.
Local Traffic Data
Gain visibility to traffic sourced from and destined to the flow data server by adding a new source of traffic data, enabling users to immediately characterize local traffic.
Bandwidth Utilization Monitoring
Bandwidth Threshold Alerting
Delivers an instant alert notification, including a list of"top talkers" when an interface exceeds its bandwidth utilization threshold.
Bandwidth Usage by Application
Provides valuable insights into which applications are consuming the most network bandwidth and tracks application traffic arriving from designated ports, source IPs, destination IPs, and even protocols.
Bandwidth Usage by IP Groups
Analyzes network traffic with custom overlapping IP address groups. Create your own IP address groups to view network traffic the way that you want to see it.
Network Traffic Monitoring & Forensics
Traffic Analysis Dashboard
Delivers a comprehensive, customizable view of your network traffic on a single-pane-of-glass, allowing you to spot potential problems quickly with top ten views of network traffic data. Get to the root cause of bandwidth issues with an intuitive point-and-click interface.
Cross-Stack Network Data Correlation
Accelerate identification of root cause by dragging and dropping network performance metrics on a common timeline for immediate visual correlation across all your network data.
Network Traffic Forensics
Enables you to drill down into any element's traffic using multiple views to get the perspective you're looking for. You can investigate and isolate excessive network bandwidth utilization and unexpected application traffic.
CBQoS Performance Views
Enables you to view network traffic segmented by Class of Service methods, measure effectiveness of your CBQoS policies, and quantify bandwidth consumption by class map.
Port 0 Monitoring
TCP/UDP monitoring of port 0 traffic highlights any flows directed to port 0, so you can identify intrusive traffic.
Autonomous System Traffic Analysis
Autonomous system traffic monitoring allows you to see traffic routed through your ISP connections.
Flow-based Monitoring & Reporting
Multi-Vendor Device Support
Analyzes NetFlow v5, NetFlow v9, sFlow v2, v4, v5, IPFIX, J-Flow, and Huawei NetStream data
Supports devices from Cisco, Extreme Networks, HP, Juniper, Nortel Networks, Huawei, and other leading vendors
Supports NetFlow traffic from VMware vSwitch
Alert on Flow
Get alerted, so you can quickly act if application traffic suddenly increases, decreases, or disappears completely, and efficiently remediate the problem.
Flow-Based Reporting
Enables you to create in-depth network traffic reports with a few clicks or schedule automatic weekly delivery to your team.
Flow Navigator
Enables you to create and access personalized network traffic views by filtering NetFlow, J-Flow, sFlow, IPFIX, and Huawei NetStream data.
Talk-Talker Optimization
Determines which flows are representative of the majority of bandwidth usage and stores those flows while disregarding flow data from users and applications that have a negligible impact on overall bandwidth. Boost overall performance of SolarWinds NTA up to 10x when capturing flows that represent 95% of the total network traffic.
SolarWinds NetFlow Traffic Analyzer Does More…
Integrated Fault, Performance, and Configuration Management
Integrates with SolarWinds Network Performance Monitor (NPM), SolarWinds Network Configuration Manager (NCM), and SolarWinds User Device Tracker (UDT). In turn, providing a unified solution for fault, performance, configuration management, automated device tracking, and switch port management.
Microsoft Active Directory Integration
Leverages your existing Active Directory user accounts to simplify login and account management.
NetFlow Traffic Analyzer is a part of the SolarWinds Orion Platform.

Change the way you think about IT. SolarWinds delivers central visibility and control through a tightly integrated experience.
One vendor. One platform. One single pane of glass.
Leverage the Orion® Platform's modular structure with NetFlow Traffic Analyzer (NTA) to integrate with and easily surface data from other from SolarWinds Network Configuration Manager, SolarWinds IP Address Manager, and SolarWinds User Device Tracker.


Get in-depth tools like PerfStack™, NetPath™, and Orion Maps, giving users insights from correlated data historically and in real time.


Utilize the Orion Platform's modular structure to see all events and alerts on your network in one view and troubleshoot advanced devices across the platform.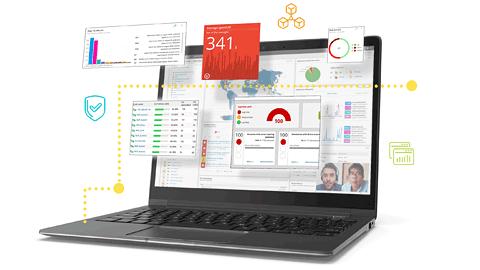 System Requirements:
Minimum System Requirements
To deploy SolarWinds NetFlow Traffic Analyzer, SolarWinds Network Performance Monitor (NPM) needs to be installed on the same server. These system requirements define the minimum requirements for NTA installed on the NPM primary poller. Requirements may differ per license level.
System Requirements
Orion Platform products can be deployed on physical or virtual servers onpremises or in the cloud. These products can also be deployed via Azure or AWS marketplaces.
NTA Flow Storage Database Requirements
NTA and Orion Platform use two SQL databases - the Orion database and the NTA SQL Flow Storage database. The Orion database stores SolarWinds Orion configuration data and all collected performance and syslog data. The NTA Flow Storage database is where SolarWinds NTA stores your flow data.
Type
Recommendation
SQL server
SolarWinds recommends using a single SQL server instance for both the NTA Flow Storage database and the Orion database.

SQL Server 2016, 2016 SP1, or 2016 SP2
SQL Server 2017
SQL Server 2019

SolarWinds supports Express, Standard, or Enterprise versions of the SQL server.

Sizing
Hardware recommendations for the NTA SQL Flow Storage database
NOTE: The minimum server requirements listed assume default configuration. Significantly increasing the polling rate or flow collection rate could result in additional load on the server, which may require a larger CPU or additional memory.
SolarWinds Products
Solarwinds NetFlow Traffic Analyzer
SolarWinds NetFlow Traffic Analyzer Module for SolarWinds NPM SL100 (up to 100 elements)
License with 1st-year Maintenance
#3050
Our Price: $1,875.00
SolarWinds NetFlow Traffic Analyzer Module for SolarWinds NPM SL100 (up to 250 elements)
License with 1st-year Maintenance
#3051
Our Price: $4,125.00
SolarWinds NetFlow Traffic Analyzer Module for SolarWinds NPM SL100 (up to 500 elements)
License with 1st-year Maintenance
#3052
Our Price: $6,355.00
SolarWinds NetFlow Traffic Analyzer Module for SolarWinds NPM SL100 (up to 2000 elements)
License with 1st-year Maintenance
#3053
Our Price: $10,895.00