Solarwinds Virtualization Manager

Virtual machine monitoring and management designed to fix and optimize performance issues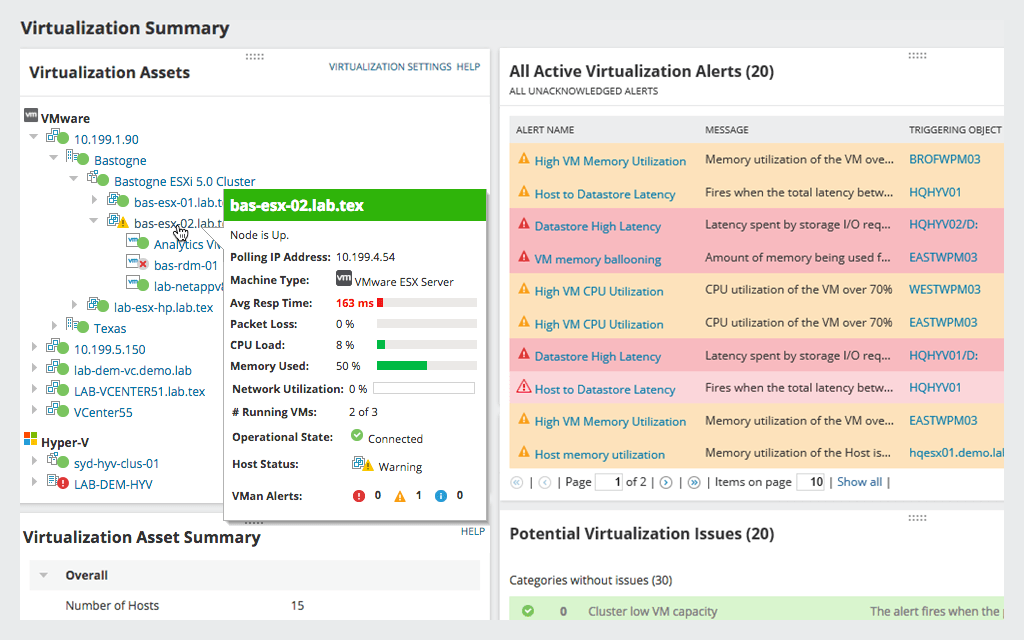 SolarWinds Products
Solarwinds Virtualization Manager
SolarWinds Virtualization Manager VM8 (up to 8 sockets)
License with 1st-year Maintenance
#14000
Our Price: $2,995.00
SolarWinds Virtualization Manager VM16 (up to 16 sockets)
License with 1st-year Maintenance
#14001
Our Price: $6,295.00
SolarWinds Virtualization Manager VM32 (up to 32 sockets)
License with 1st-year Maintenance
#14002
Our Price: $11,795.00
Click here to jump to more pricing!
Overview:
SolarWinds Virtualization Manager (VMAN) is designed to be an intuitive tool for virtualization monitoring, performance management, capacity planning, and optimization across VMware vSphere, Microsoft Hyper-V, and Nutanix AHV environments. Virtualization Manager is affordable and easy to download, deploy, and use.
But don't just take our word for it. At SolarWinds, we believe you should try our software before you buy. That's why we offer free trials that deliver full product functionality. Simply download and install the software and take a break while Virtualization Manager auto-discovers the virtual machines in your environment. When you get back, your monitoring environment will be waiting for you; complete with out-of-the-box dashboards, alerts, reports, and more! It's just that simple!
Virtualization Manager at a Glance
Use real-time dashboards to easily identify and troubleshoot performance, capacity, and configuration problems
Identify VM sprawl, which helps you reclaim and optimize space and performance
Integrate with Server & Application Monitor to have complete visibility of the application stack— from app to VM to datastore—on the Orion interface
Use baseline thresholds for alerting on performance discrepancies on clusters, hosts, VMs, and datastores
Eliminate frequent log ins into vCenter and take action from within Virtualization Manager
Features:
Complete visibility into your entire environment
Monitor VMware vSphere, Nutanix AHV, and Microsoft Hyper-V environments, whether on-premises or in the cloud—with a single tool. VMAN can also deliver visibility into how your virtualization environment connects to application, server, and storage infrastructure for faster troubleshooting.
Easily access what you need to maximize performance
Get at-a-glance insight into the performance, capacity, configuration, and usage of your virtualized infrastructure, including hosts, VMs, clusters, containers, vSANs, and other datastores. VMAN is also designed to deliver predictive recommendations to address active or potential performance issues. These recommendations can be run immediately or scheduled to run later—or use batch execution for quicker problem resolution.
Address virtualization issues efficiently
The VMAN console can execute a variety of management actions, including power on/off, suspend, and reboot a VM, or take and delete snapshots. You can migrate VMs to a different host, and VM disks to a different datastore or shared cluster volume. These actions can be triggered manually or through customized alerts or scripts, which can help you optimize your resources without jumping to a separate tool.
Reclaim resources for improved performance and cost savings
You can reclaim vir tual resources quickly with VM sprawl aler ts and recommendations. VMAN can automatically find idle, stale, and zombie VMs as well as orphaned VMDKs to help you free up storage space and improve overall performance. VMAN can guide you in rightsizing your VMs to recapture CPU and memory resources for further savings.
Assign costs to specific workloads
SolarWinds VMAN delivers easy-to-use chargeback reporting to calculate the computing costs of specific virtual workloads. With this information, you can clearly communicate virtual infrastructure cost information for more effective budgeting.
End-to-End Visibility
Use Virtualization Manager to access the SolarWinds AppStack™ and PerfStack™ dashboards for end-to-end visibility into application and infrastructure performance, including your virtualization resources.
Virtualization Manager is a part of the SolarWinds Orion® Platform.

Change the way you think about IT. SolarWinds delivers central visibility and control through a tightly integrated experience.
One vendor. One platform. One single pane of glass.
Pinpoint whether the root cause of a slow application is the application, virtual server, host, or datastore when you use SolarWinds® Server & Application Monitor (SAM) and SolarWinds Storage Resource Monitor (SRM) alongside SolarWinds Virtualization Manager (VMAN).


Take the basic VM performance metrics available in SolarWinds Network Performance Monitor (NPM) and SAM to the next level when you add VMAN for active and predictive performance recommendations.


Gain visibility into your VMware, Hyper-V, and Nutanix virtual environment performance in VMAN—in addition to the physical host monitoring available in SAM—to pinpoint and solve issues faster.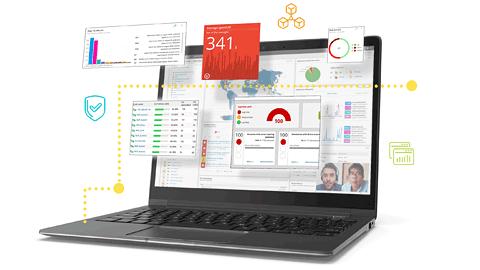 System Requirements:
Hardware
Minimum Requirements
CPU
3.0GHz quad-core
Memory
8GB + RAM (Recommendations feature requires an additional 8GB)
Hard Drive
20GB (up to 3,000 virtual machines)
30GB (up to 6,000 virtual machines)
10GB free disk space
Software
Minimum Requirements
Operating System
Windows Server 2016 or later
Database
Azure SQL Database
SQL Server 2014, 2014 SP1
SQL Server 2016 or 2016 SP1
SQL Server 2017
.Net Framework
NET 4.8
Web Browser
Microsoft Internet Explorer version 11
Microsoft Edge
Mozilla Firefox last two versions
Google Chrome last two versions
NOTE: The minimum server requirements listed assume default configuration. Significantly increasing the poll rate or statistic collection rate could result in additional load on the server, which may require a larger CPU or additional memory.
SolarWinds Products
Solarwinds Virtualization Manager
SolarWinds Virtualization Manager VM8 (up to 8 sockets)
License with 1st-year Maintenance
#14000
Our Price: $2,995.00
SolarWinds Virtualization Manager VM16 (up to 16 sockets)
License with 1st-year Maintenance
#14001
Our Price: $6,295.00
SolarWinds Virtualization Manager VM32 (up to 32 sockets)
License with 1st-year Maintenance
#14002
Our Price: $11,795.00
SolarWinds Virtualization Manager VM64 (up to 64 sockets)
License with 1st-year Maintenance
SolarWinds Virtualization Manager VM112 (up to 112 sockets)
License with 1st-year Maintenance
SolarWinds Virtualization Manager VM192 (up to 192 sockets)
License with 1st-year Maintenance
SolarWinds Virtualization Manager VM320 (up to 320 sockets)
License with 1st-year Maintenance