Solarwinds Web Help Desk

Fully Integrated Ticketing & IT Asset Management Software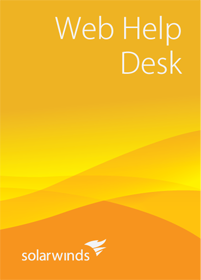 SolarWinds Products
Solarwinds Web Help Desk
SolarWinds Web Help Desk, Per Seat License (1 to 5 named users)
License with 1st-year Maintenance
SolarWinds Web Help Desk, Per Seat License (6 to 10 named users)
License with 1st-year Maintenance
SolarWinds Web Help Desk, Per Seat License (11 to 20 named users)
License with 1st-year Maintenance
Click here to jump to more pricing!
Overview:
SolarWinds Web Help Desk is an easy-to-use and affordable Web-based IT help desk software that simplifies help desk management, and saves time and manual effort for IT technicians and help desk admins. With built-in ticketing management, asset management, change management, and knowledge base capabilities, you can centralize and automate your help desk tasks and improve customer support and satisfaction. Web Help Desk integrates with SolarWinds network monitoring, server monitoring, and remote support software for faster IT troubleshooting.
Web Help Desk at a Glance
Simplifies and streamlines IT help desk processes from service request creation to resolution
Automates ticketing management with rule-based routing & escalation, real-time tracking, and alerts
Automated IT asset management for tracking and managing the lifecycle of hardware & software assets
Offers built-in knowledge base for self-resolution of issues, and automation of change management
Affordable pricing for IT technician logins—no additional cost for end-user logins or managed IT assets

Centralize, streamline, and automate ticketing management
Automate service request management through ticket creation, assignment, routing, and escalation.

Keep your hardware and software asset inventory up to date
Simplify IT asset management with built-in asset discovery, inventory management, and reporting.

Centralize knowledge management for IT technicians and end-users
Leverage built-in knowledge base to create and maintain KB articles. Promote end-user self-service.

Reduce the impact of change with controlled change management
Regulate and manage change requests through automated approval workflows and panel voting options.

Employ robust reporting and help desk monitoring
Use built-in reports & dashboards to track ticket status, technician performance, and customer support needs.

Simple and transparent licensing
Licensed only by the number of technician logins. No limit to the number of end-users & assets supported.
Features:
Simple & Affordable IT Help Desk Software for All IT Teams
Web Help Desk offers an intuitive Web interface to centrally manage service tickets, and simplify & automate help desk tasks for IT technicians. Whether you are running IT support in a small or large organization, or if you are an MSP offering managed support services to customers, Web Help Desk is flexible and scalable to meet all your requirements.
Centralize, Streamline & Automate Ticketing Management
Web Help Desk is an easy-to-use ticketing management software that automates help desk ticketing tasks to simplify ticket creation, routing, escalation, and management.
Automated IT Asset Discovery & IT Asset Management
Web Help Desk is an IT asset management product that enables you to automatically discover your software and hardware assets, and manage asset assignments, history, and associated service requests, all from a single user-friendly Web console.
Help Desk Knowledge Management
Web Help Desk includes a built-in extensive, searchable, and easy-to-use knowledge base for technician knowledge management and for promoting self-resolution options to end-users and help reduce the number of in-bound service requests.
IT Change Management & Change Approval Workflows
SolarWinds Web Help Desk software delivers a simple and automated process for managing and controlling change requests. You can customize change approval workflows varying from single approval to multiple approval levels.
Simplify Incident & Problem Management
Web Help Desk simplifies incident and problem management by allowing you to link multiple incidents to a problem for efficient ticket management and resolution.
IT Project Management & Business Process Automation
With the help of flexible and customizable Parent-Child relationships for tickets, Web Help Desk simplifies management of recurring tasks such as employee onboarding or termination, and IT projects such as new infrastructure setup or migration.
Help Desk Performance Reporting
Web Help Desk software provides numerous help desk reports to monitor technician performance and ticket status, as well as track customer support needs by location, real-time billing data, and incidence frequency.
SLA Tracking & Management
Prevent your SLAs from falling through the cracks. Web Help Desk ensures that you maintain all levels of service agreement. Set up 'SLA breach approaching' notifications and date-specific SLA reminder alerts for effective SLA management.
Leverage Existing Active Directory & LDAP Infrastructure
Web Help Desk software empowers you to discover and import help desk client account information from your existing Microsoft Active Directory (AD) and LDAP directories.
Web Help Desk Mobile
SolarWinds Web Help Desk offers native mobile app for Apple iPhone & iPad to support push notifications for new and updated tickets.
Integration with Solarwinds IT Management Software
Help Desk Integration with Network Management & Server Monitoring Software
Web Help Desk integrates with SolarWinds Network Performance Monitor (NPM), Server & Application Monitor (SAM), and Network Configuration Manager (NCM) enabling you to automatically convert network & server node failure, device/interface performance & configuration issues, and critical application faults directly into help desk tickets, and assign them to appropriate IT team for faster troubleshooting.
Remote Desktop Access Connectivity from Web Help Desk
SolarWinds Web Help Desk offers built-in integration for DameWare Remote Support software which empowers you to directly launch a remote control session with the end-user computer from help desk trouble tickets and IT asset inventory.
System Requirements:
Hardware
Minimum Requirements
CPU
Dual-core 2.0GHz or faster
Memory
3GB (add 1 GB for every 10 additional technicians)
Hard Drive
20GB
Software
Minimum Requirements
Operating System

Windows Server 2003 (32/64-bit), Windows Server 2008 (32/64-bit), Windows Server 2008 R2 (64-bit),Windows Server 2012 (64-bit), Windows Server 2012 R2 (64-bit)
Mac OS X 10.8 through 10.10, iOS and Mobile iOS 5 through 8
CentOS 6.5 (32/64-bit)
Red Hat Linux 6.5 (32/64-bit)
Fedora 20 (32/64-bit)
VMware vSphere and Microsoft Hyper-V.

Database
Web Help Desk uses an embedded PostgreSQL database as its standard database

Web Help Desk also supports the following external databases:

MySQL 5.6 and 5.74
Microsoft SQL Server 2008, 2012 and 2014
PostgreSQL 9.2, 9.3.2 and 9.4
SolarWinds Products
Solarwinds Web Help Desk
SolarWinds Web Help Desk, Per Seat License (1 to 5 named users)
License with 1st-year Maintenance
SolarWinds Web Help Desk, Per Seat License (6 to 10 named users)
License with 1st-year Maintenance
SolarWinds Web Help Desk, Per Seat License (11 to 20 named users)
License with 1st-year Maintenance
SolarWinds Web Help Desk, Per Seat License (21 to 30 named users)
License with 1st-year Maintenance
SolarWinds Web Help Desk, Per Seat License (31 to 40 named users)
License with 1st-year Maintenance
SolarWinds Web Help Desk, Per Seat License (41 to 50 named users)
License with 1st-year Maintenance
SolarWinds Web Help Desk, Per Seat License (51 to 75 named users)
License with 1st-year Maintenance
SolarWinds Web Help Desk, Per Seat License (76 to 100 named users)
License with 1st-year Maintenance
SolarWinds Web Help Desk, Per Seat License (101 to 250 named users)
License with 1st-year Maintenance
SolarWinds Web Help Desk, Per Seat License (251 to 500 named users)
License with 1st-year Maintenance
SolarWinds Web Help Desk, Per Seat License (501 to more named users)
License with 1st-year Maintenance