Solarwinds Serv-U FTP Server

Simple, affordable, easy-to-use FTP server software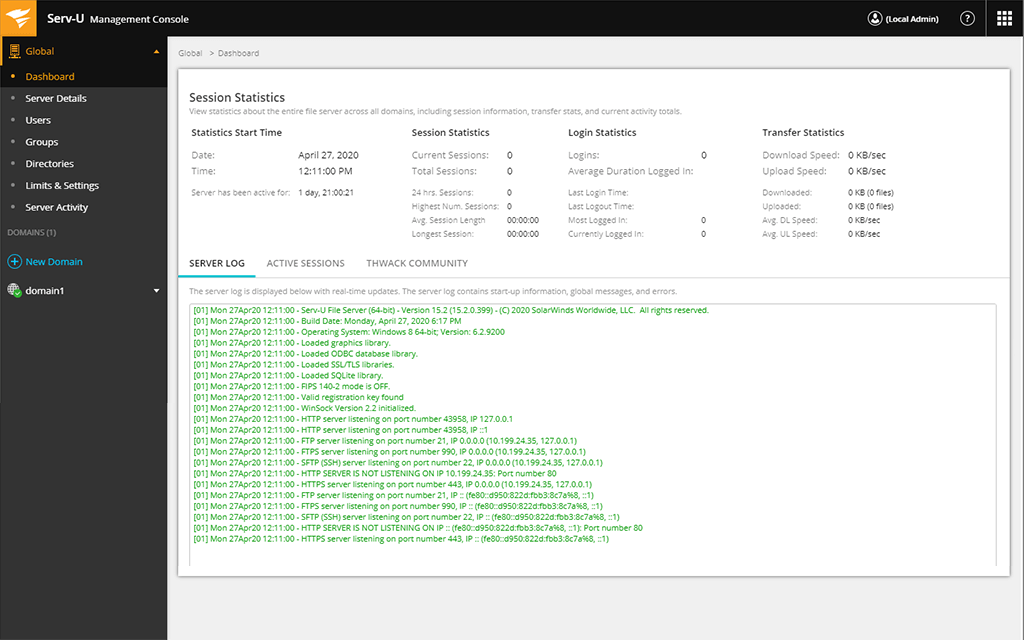 SolarWinds Products
Solarwinds Serv-U FTP Server
SolarWinds Serv-U FTP Server
License with 1st-year Maintenance (email only support)
Click here to jump to more pricing!
Overview:

Serv-U FTP Server from SolarWinds delivers quick, easy, and reliable file transfer for your organization. You can exchange sensitive files with your trading partners using secure FTPS (FTP over SSL/TLS) over both IPv4 and IPv6 networks. Users can view, upload, and download files from intuitive Web and mobile interfaces. Designed for small businesses, Serv-U FTP Server is an affordable and secure file transfer software that helps you accomplish all your internal and external file transfer needs.
Serv-U FTP Server at a Glance
Safe FTP server software that can support FTP and FTPS (over SSL/TLS) for file transfers
Be able to easily view, upload, and download files from anywhere—transfer files over web and mobile devices
Supports large file transfers (>3GB) and multiple file transfers with drag-and-drop capability
Contains a variety of customization options that can help with easy file transfer administration and management
Built to be simple to deploy, easy to use, and extremely affordable
Available for Windows and Linux platforms
FTP server software for Windows and Linux operating systems.

Fast and secure
Reliable file transfer using FTP and FTPS over both IPv4 and IPv6 networks
Send large and small files
Transfer multiple and large files with drag-and-drop via HTTP in a web browser

Mobile ready
Mobile device transfer via HTTP from iOS and Android
Features:
Secure File Transfer using FTPS (over SSL/TLS)
Serv-U FTP Server is built to support safe FTPS protocol for file transfers. You can encrypt files using SSL or TLS cryptographic protocol and can safely exchange files with your business partners. When transferring files using FTPS, SSL/TLS protects the data in transit using SSL/ TLS, and confidential information is protected from tampering, snooping, leakage, or accidental exposure.
Quick & Easy File Transfer from Web Browsers & Mobile Devices
From intuitive web client and mobile device interfaces, you can easily view, upload, and download documents in very little time. With an interactive drag-and-drop file transfer option, your end users can exchange files from anywhere on the fly.
Large File Transfer (>3GB) & Multiple File Transfers
Transfer large files (>3GB) with the help of a free, built-in Web plug-in called "Web Client Pro." This plug-in also allows you to upload/download multiple files at once. Web Client Pro also provides a transfer queue to pause or resume active file transfers and ask for confirmation before file overwrite.
Easy File Transfer Administration & Management
Perform file transfer administration and management from a single, easy-to-use management console. This includes real-time session monitoring and file transfer statistics, granular control over bandwidth, storage, permissions and access, access to virtual folders for local storage, remote shares, transfer ratio and quota management for end-users, and more.
Monitor FTP Server Logs for Troubleshooting & Error-Handling
View and monitor FTP server logs in real-time for easier troubleshooting and error-handling. The server log shows file server startup, configuration, and shutdown information.
Easily Add File Transfer Users & Groups
Serv-U FTP Server enables you to easily add users and groups for file transfer. With the help of a wizard-driven interface, you can create new users and grant them access to the file server in just a few clicks.
Easily Manage FTP Server Settings & Permissions
Serv-U FTP Server allows you to easily configure file transfer settings and permissions on the file server. You can define limits for the maximum number of sessions on the server, block the IP address of a timed-out session, enable settings to require reverse DNS names, and more.
Affordable FTP Server for Windows & Linux Platforms
Serv-U FTP Server deploys on both Windows and Linux operating systems and provides easy configuration options to set up domains, add users and groups, and start transferring and exchanging files in no time.
Deployments:
Secure Gateway for File Transfer in DMZ Networks
Serv-U FTP Server integrates with the optional Serv-U Gateway to ensure secure file transfer in your DMZ networks. Serv-U Gateway is the secure addition to Serv-U FTP Server that allows you to safely accept incoming file transfer connections in your DMZ. Serv-U Gateway provides defense-in-depth security to Serv-U FTP Server deployment.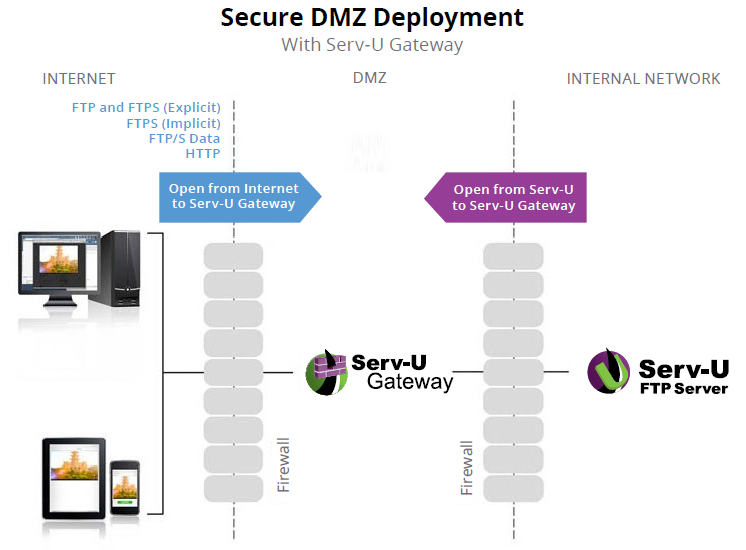 System Requirements:
Integration with other Solarwinds Products
Using Serv-U FTP Server, you can send server logs to SolarWinds Log & Event Manager (SIEM software) for deeper security analysis and compliance reporting.
Serv-U FTP Server lets you transfer files via the FREE desktop-based FTP client from SolarWinds – FTP Voyager.
Managed File Transfer (MFT) for Enterprise File Transfer
For larger file transfer and file sharing requirements, advanced security, scalability, and administration options, Serv-U Managed File Transfer (MFT) Server is a secure and comprehensive enterprise file transfer solution. While Serv-U FTP Server is limited to 3 domains, 250 user accounts, and 100 concurrent sessions, Serv-U MFT Server, , supports unlimited domains, users, and concurrent sessions. See comparison of Serv-U FTP and MFT Server.
Hardware
Minimum Requirements
CPU
1.0 GHz Processor (Dual Core Recommended)
Memory
256 MB (Or Minimum Required by Operating System)
Hard Drive
30 MB
Software
Minimum Requirements
Operating System
Licensed version supported on:

Windows Server 2003, 2008, 2008 R2, 2012, 2012 R2, 32-bit or 64-bit
CentOS 7.2, 32-bit or 64-bit
Red Hat Linux (RHEL) v.7.2, 32-bit or 64-bit
Fedora 24, 32-bit or 64-bit
Ubuntu 16.04+
OpenSUSE 42.1

Free trial/evaluation version also supported on: Windows XP, Windows Vista, Windows 7, 8, and 8.1

Database
ODBC-compliant databases such as SQL Server, Oracle and MySQL are optional
Note: This hard drive requirement is for the Serv­U application only. Additional local or UNC­accessible storage is usually required for user's home folders, shared folders, file sharing storage and log files.
Screenshots:
Transfer files using FTP and FTPS
Encrypt files using SSL/TLS protocols to prevent tampering, leakage, or exposure during transfer.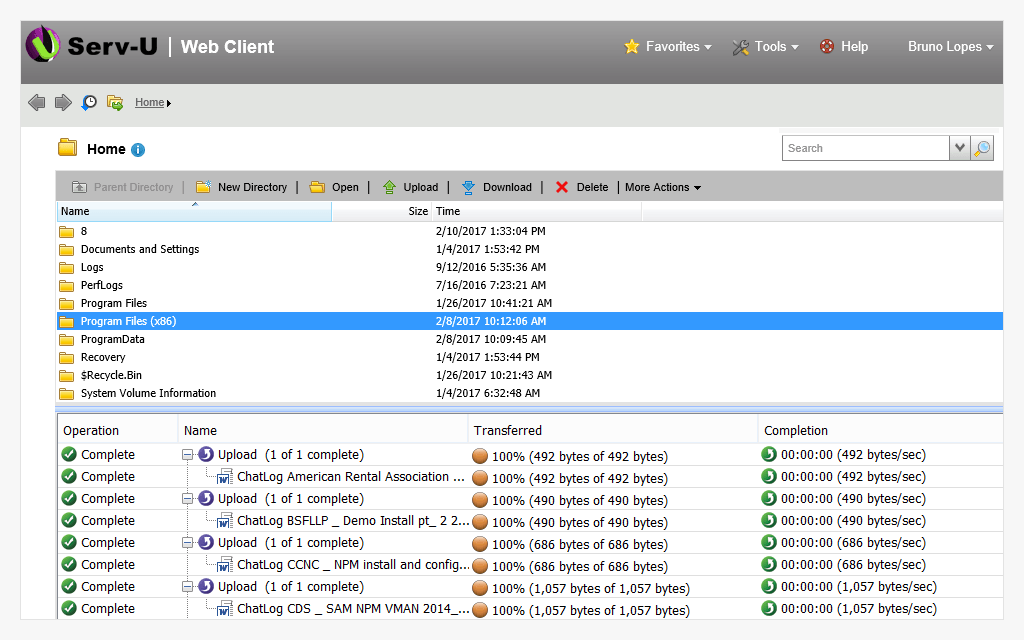 Transfer files quickly and easily from the web and mobile devices
Easily view, upload, and download files using intuitive web and mobile device interfaces.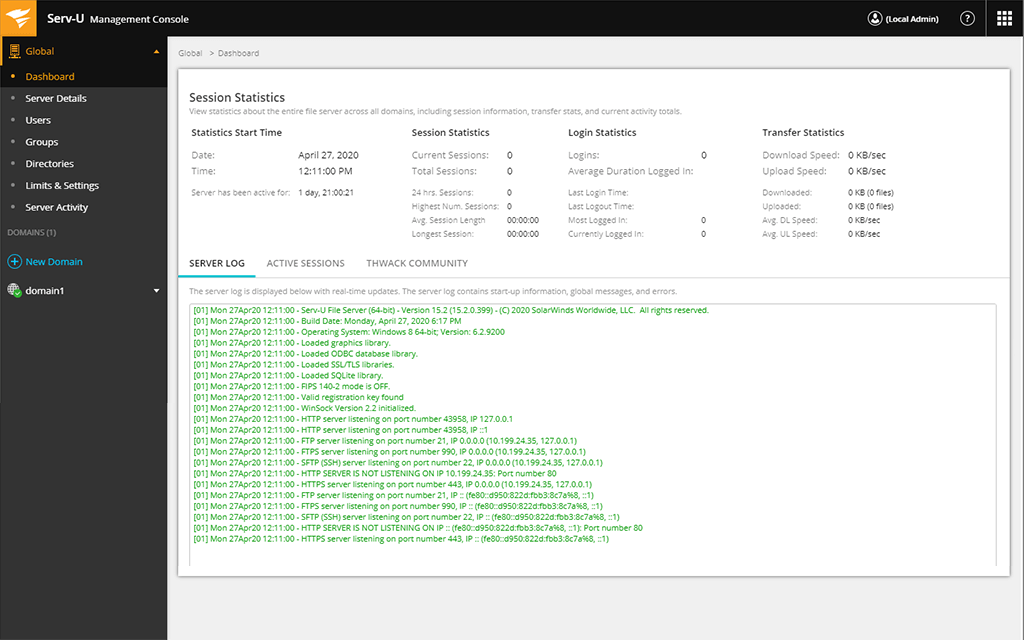 Manage and administer file transfers simply and easily
View details of file transfers. Control settings, such as bandwidth, storage, access, and permissions.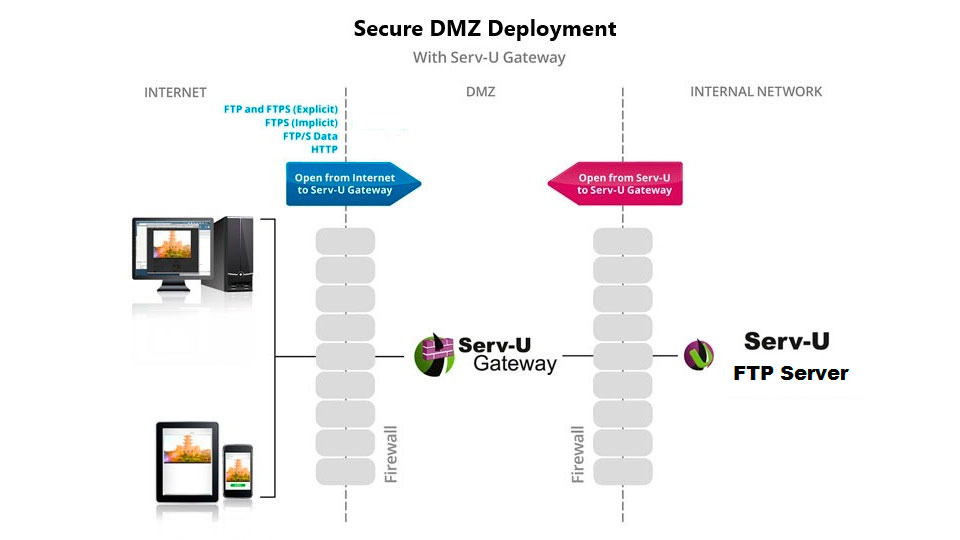 Maintain regulatory compliance
Optional Serv-U Gateway add-on provides defense-in-depth security to Serv-U FTP Server deployment. It ensures no data is stored in the DMZ in order to comply with PCI DSS and other regulatory frameworks.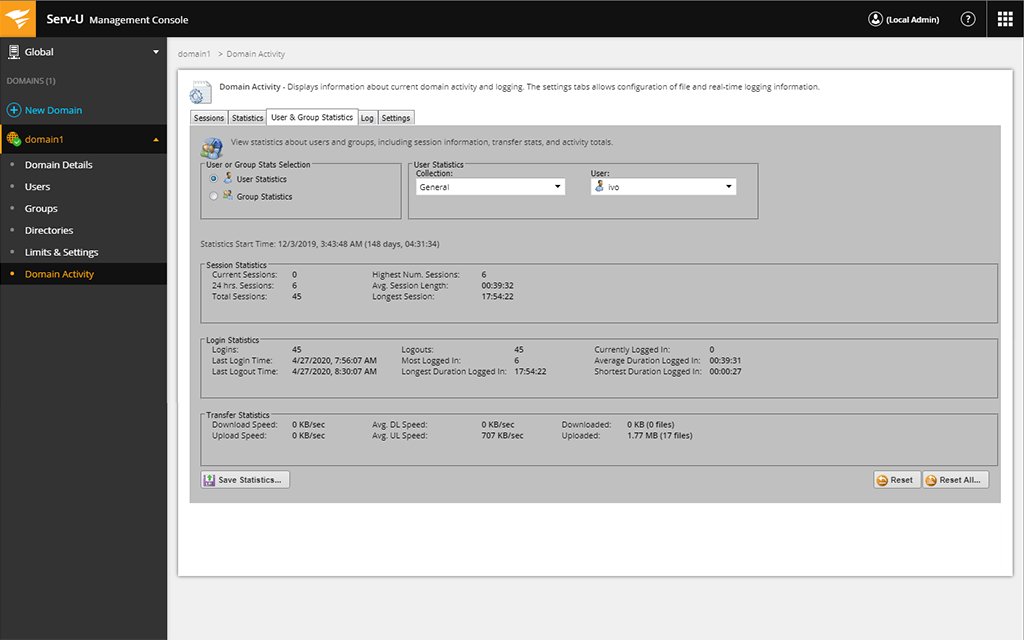 Manage transfer ratios and quotas
Set up file transfer limits to avoid bandwidth throttling and storage consumption risks.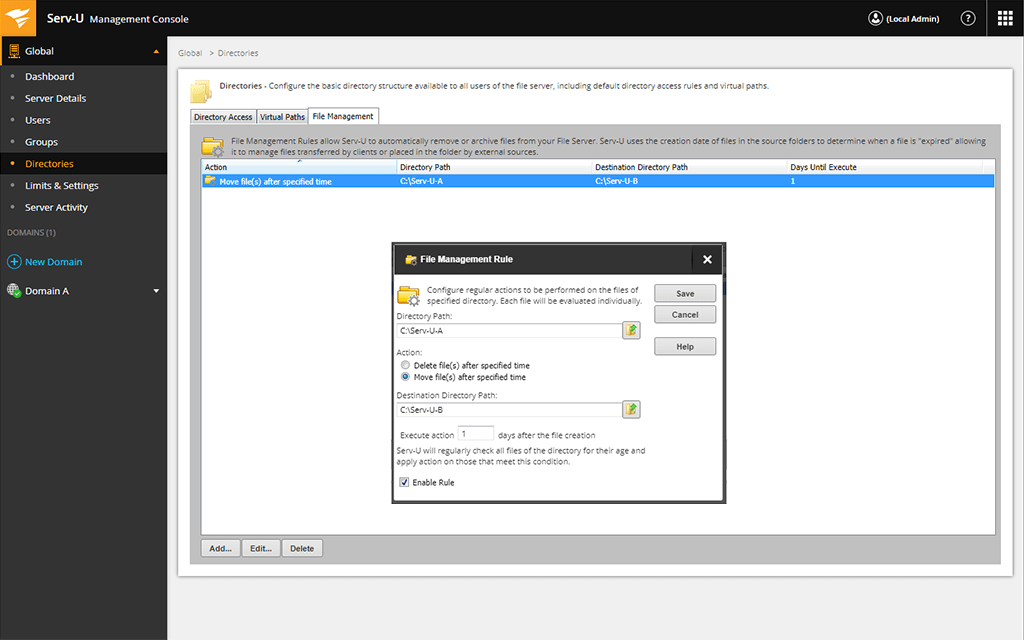 Automate file management
Automatically move or delete files after transfer. Disable/reset username and password after X number of days.
Serv-U Editions:
Serv-U FTP Server
Serv-U MFT Server
Maximum Usage
Domains
3
Unlimited
User Accounts
250
Unlimited
Concurrent Sessions
100
Unlimited
Capabilities
Access Local and Shared Storage from Anywhere
Virtual Folders, Groups, and Granular Permissions
Transfer Ratios and Quotas
Events, Notifications, and Conditional Execution
Secure File Sharing ("Ad Hoc" File Transfer)
Architecture
Windows or Linux (Red Hat, SUSE, etc.)
Native 64-bit Application
Serv-U Gateway (Prevents Data in DMZ; PCI-DSS)1
Available
Available
High Availability (N+1 Active-Active)2
Protocols
IPv6 and IPv4
FTP and HTTP
FTPS (via SSL/TLS)
SFTP (via SSH2) and HTTPS (via SSL/TLS)
FIPS 140-2 Validated Cryptography
Web and Mobile
Basic Web Client
Support for iPad, iPhone, Android, BlackBerry, etc.
FTP Voyager JV (Sync and Side-by-Side Transfers)
Web Client Pro (Large Files and Multiple Transfers)
Administration
Tray Icon and Local Management Console
Self-Serve Password Recovery
Remote Web and iPad Management Console
User and Group Statistics (Auditing & Reporting)
Customization and Integration
Active Directory3 or LDAP Authentication
3rd Party Integration via API or DB
Custom Web Client Logo, Text, and HTML
Support
Email
Phone
1 = Installed on separate machine.
2 = Requires additional Serv-U licenses.
3 = Only available for Windows.
SolarWinds Products
Solarwinds Serv-U FTP Server
SolarWinds Serv-U FTP Server
License with 1st-year Maintenance (email only support)
Solarwinds Serv-U Gateway
SolarWinds Serv-U Gateway
License with 1st-year Maintenance